March 2021
Incredible End of Term Learning Fun:
Science/Design Technology Week
We finally all got back to school in March and rounded off this most strange term with a fantastic science week for the whole school.
Each class learned about forces and how they affect how buggies travel .
But that was not all: our task was to design a buggy to carry an egg safely down a ramp on the playground.
After a week of scientific thinking and creative designing, the whole school gathered on the playground (with our bubbles socially distanced of course), to test out all our vehicles.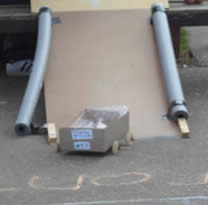 Our design skills paid off and there were only a small number of egg breakages.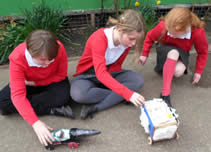 Prizes were awarded for the vehicles from each class which travelled the furthest distance, but everyone was rewarded with an Easter treat.

---
July 2020
Our Lock-Down Persuasive Literacy
Letter Writing Pays Off !
After our literacy letter writing expoits a couple of weeks ago, we have a a great result from one of our persuasive 'if you don't ask, you won't get' letters. About £50 worth of top dance costume and equipment was sent for free after this one: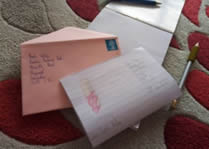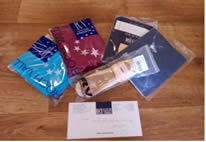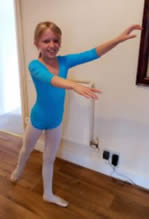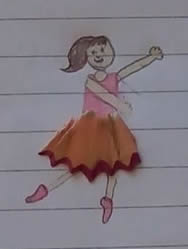 17th June 2020
Daisy Receives Letter from the Queen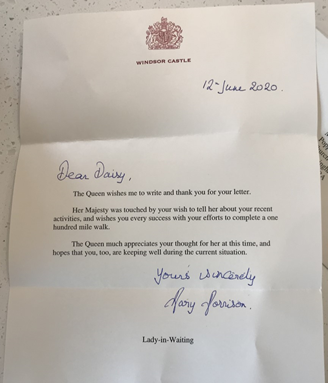 After emailing the Queen several weeks ago, telling her about the one hundred mile walk she is attempting. This week, she actually recieved a reply from Windsor Castle. Well done Daisy - this is a lovely thing to recieve through the post. WE're sure you'll treasure it.
1st June 2020
We are Back in School!
After 10 weeks of school closure, some us us finally got back into school this week - and it looked a little different. Extra sinks, lots of hand washing and social distancing meant learning a new routine pretty quickly - which everyone has done incredibly well with no fuss. The great weather meant we could get outside in the sunshine.
Classes look a little different now, and someone is obviously very confused !
Well done to everyone in Reception, year 1 and 6 who just got on with the new rules and enjoyed just being back in school
April 2020
New Running Track Takes Shape:
The school closure has not stopped the progress on our new running track. Have a look at how the construction is getting on below. This will be a great facility for our morning 'daily' mile activities and we look forward to a summer where we can hopefully use it when we are all back together.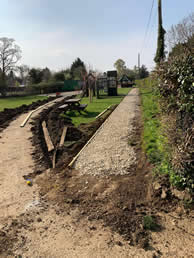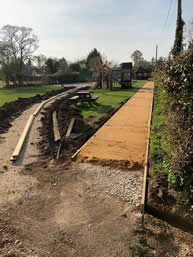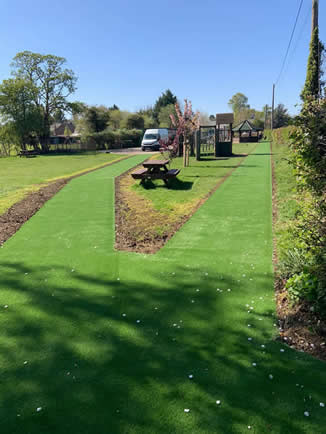 October 2019
Fantastic Novice Girl Footballers
Do Wreningham Proud...


Two teams of Wreningham girls took to the field at the annual South Norfolk Girls Football Tournament at GOALS on 15th October. This was a big day for the majority of our girls as they had never experienced competitive football before, and after a hard day's tackling, many of them couldn't wait for their next opportunity to compete.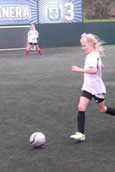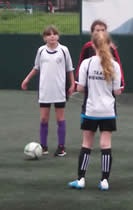 The year 5/6 team played incredibly well, scoring three or four when getting into their stride, and only losing narrowly 1-0 to Robert Kett, who went on to the finals. This is great experience for our tougher Norwich tournament on grass in the new year.
Our new, year 3 team (only one of our players from year 4), competed brilliantly, and soon came to grips with the nuances of five-aside game-play. The team only lost one game all day and finished an incredible 5th place. In another twelve months, this team should be ready to take the tournament by storm.

Many thanks to all those parents who gave up their time to ferry children to and from the competition - I know everyone had a great day supporting our children.
---
October 2019
Its Harvest Time Again...
After a very interesting week of R.E., learning about how festivals in religion bring people together, we celebrated our annual Wreningham harvest festival in the Village Hall, with special guests Reverand Avery , and Majors Andrea and Mark Sawyer from the Norwich Salvation Army.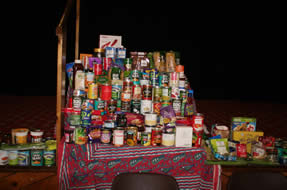 Many thanks for all the donations of food; Major Sawyer explained to us how this would go to those who really need that extra helping hand around Norwich this year. All the classes performed songs and poems and the celebration was filled with some beautiful harvest singing.
A huge well done, especially to our reception children, who were performing at Wreningham in front of a large audience of parents for the first time.

If you would like to find out about the work of Major Sawyer and The Salvation Army in Norwich, just click the logo above:
---
September 2019
Wreningham Supports
Nelson's Journey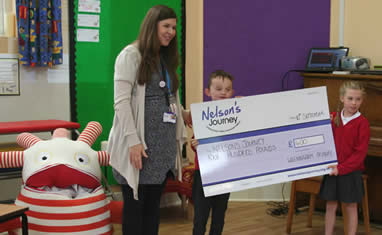 In September, Sarah Dodge from Nelson's journey paid us a visit so we could hand over our huge cheque for the money we have been raising for them. Nelson's Journey is a wonderful charity in Norfolk which helps and supports children who have experienced a bereavement.
Nelson's Journey's Vision:
Every bereaved child in Norfolk will look forward to a positive future, empowered to reach their full potential
Our ambition is perhaps best summarised by our strap line:  bringing back smiles.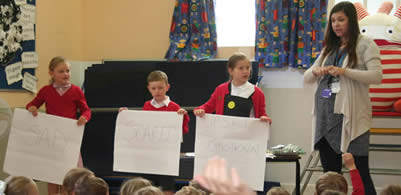 Sarah explained in assembly how our money would be used to help those children who have experienced a death of a loved one and even brought in their giant worry-eating monster. She explained how children get their own mini-monster to help them get rid of their worries and fears by writing them down and letting the monster eat them.
If you would like to find out more about Nelson's Journey, click on the logo below:

---
September 2019
Class 3 & 4 Visit Norfolk Archive

Class 3 and 4 spent an incredibly interesting and fun day at the Norfolk Archive this month. The staff at the Norfolk Records Office delivered a fantastically informative day's activities and tour which gave us all a real insight into how documents and photographs are looked after in our county.

We learnt how documents were restored and cared for ; the archive even has its own box-making machine to make the perfect box for every document. In the afternnoon, we were given a investigative task, finding out about the people and businesses in Wreningham over a hundred years ago. The staff were very impreessed with the impeccable behaviour, enthusiasm and desire to learn, as well as your beautiful handwriting, so thank you eveyone for making this such a great day out.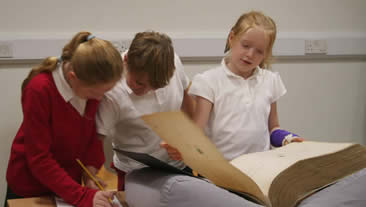 ---
June 2019

Many thanks to all the organisers, children and helpers who contributed in making the 2019 Wrenfest a great event in the sunshine on Saturday 29th June.
The sun came out on the hottest day of the year and the day was filled with music, cool drinks, fun games and lots of fun. A special thanks to Jo Lattimore, who helped lead the whole organisation of this big event, and the FRIENDS of Wreningham for all their time and efforts.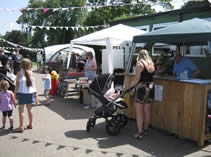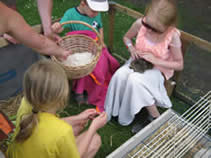 Anyone who came and contributed can be sure that the money raised will go towards benefiting the education of Wreningham's children in the best way possible.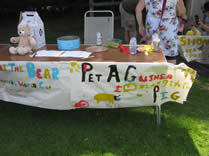 ---
Year 5/6
Win Norfolk County Netball Gold
Again...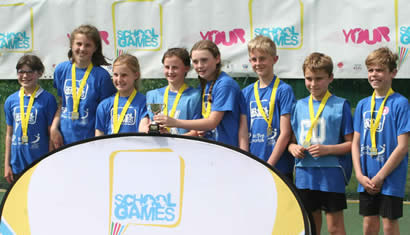 After witnessing last year's incredible netball team sweep all before them in winning the Norfolk County School Games gold, our new year 5/6 team did them proud and retained the title, winning 5 and drawing one of their round-robin games at this year''s UEA finals. They team played exceptionally well, being watched by the county selectors who commented, after seeing them play just one game, that all the players were at county trials standard - impressed by their movement and understanding of the game.
After a hot morning, and a few nasty grazes, the team held top spot, knowing that an unbeaten run in the afternoon might be enough to win the title. After two more wins, it came down to the last game against the other South Norfolk team, Garboldisham. Wreningham took a 3-1 lead into half-time, but let it slip, losing 4-3 with 90 seconds to go. But Wreningham did what they always do best, and never gave up in the heat, snatching the equalising net and drawing 4-4 to take the county title unbeaten as last year..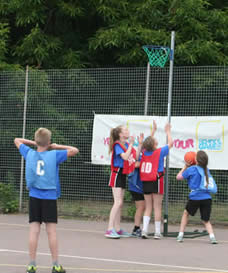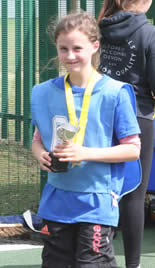 A huge well done to all the team for their efforts through the year, and to the parents who helped out and spectated - they won't forget the tension and huge delight at the end of a gruelling, incredible day's play.
---
Year 5/6 Girls Win South Norfolk All Schools Girls Cricket Finals
Update:
Girls finish in amazing 4th place in
all-schools County Cricket Finals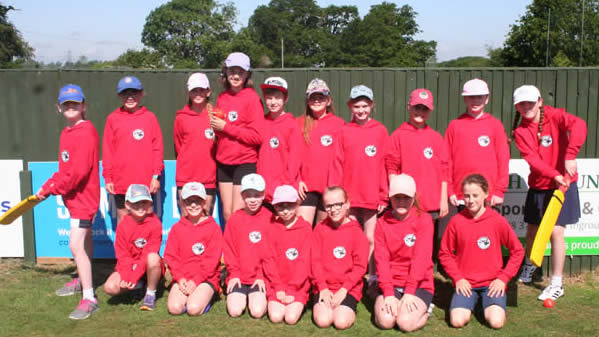 Another year, another amzing completely new girls team of cricketers! After last year's record breaking girls performances in reaching the whole county cricket final, this years brand new girls teams have done it again. Two teams competed fantastically well in this week's South Norfolk tournament at the beautiful Great Melton Cricket Club, with a place up for grabs in the county School Games finals. After a long day of seven games each, one of our teams finshed a clean sweep of games, winning seven out of seven and claiming the South Norfolk title for the second year running.
Our second team gained valuable experience for next year, much in the same way the winning team did in last year's competition. We now wish our girls good luck in the extremely tough county competition at Horsford in two weeks.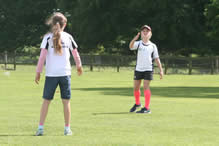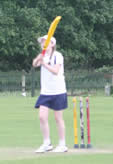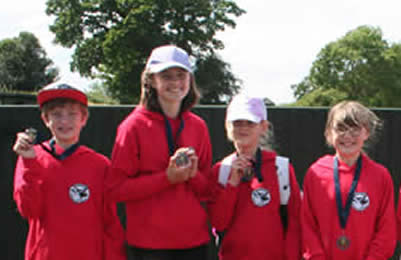 ---
Year 5/6 Win South Norfolk
Tag Rugby School Games Finals
Huge congratulatios to the Year 5/6tag rugby team who are crowned South Norfolk Small Schools Tag Rugby Champions, following a great tradition of rugby winning teams over the last decade. The team performed brilliantly through a gruelling day at the new Wymondham Rugby Club facilities, winning all their group games followed by an even better performance in the semi-finals.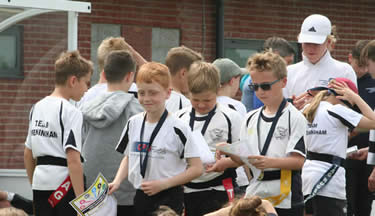 The final saw them beat Spooner Row 5-4, always edging two tries in front from each kick-off and finishing worthy winners for all their incredible efforts.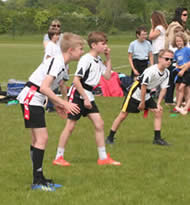 ---
Year 5/6 Boys and Girls &
3/4 Girls Earn Place in County Finals
Year 3/4 Win Bronze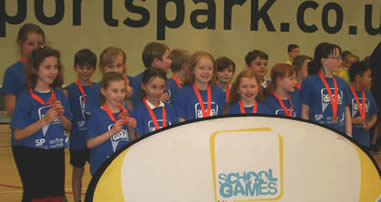 As South Norfolk Champions, the year 5/6 girls and boys and 3/4 girls were invited to compete against the best athletes in Norfolk schools in the Norfolk School Games County Athletics Finals at the UEA this month. Again, many children increased their personal bests in throwing, jumping and running, with the year 3/4 girls achieving an incredible bronze medal in this event which does not make any allowances for small schools. The girls produced some incredible performances and were over the moon with their bronze medals, working together with the boys team from Banham to represent South Norfolk.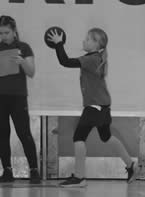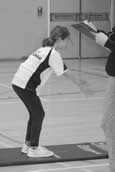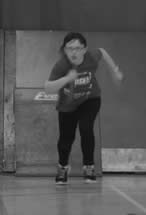 The year 5/6 team narrowly missed out on medal positions by a mere 18 points, with Cayden's illness that morning proving a huge slice of misfortune in losing one of our best athletes.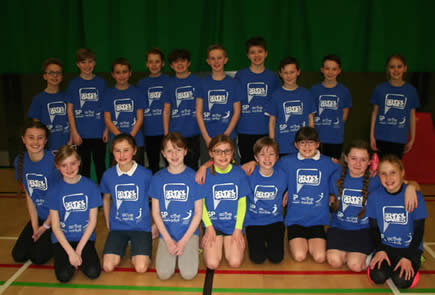 The fact the team came so close to a winning position is testament to the huge efforts all the children have made this year in athletics club, with everyone showing huge improvements since the autumn. Well done team, you compted brilliantly and represented our school wonderfully as usual.

Year 5/6 and 3/4 Girls
Win South Norfolk Athletics Gold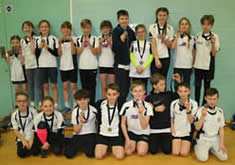 All this year's hard work and training finally paid off at this month's South Norfolk Sportshall Athletics School Games finals at Framingham Earl High School. Three teams from Wreningham competed with 7 other cluster winning schools across the whole range of indoor atheltics events - both field and track.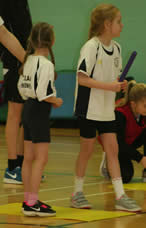 After a day's fantastic competition, all three Wreningham teams finished top of the tree, with many children scoring their personal bests on the day. Wreningham 5/6 boys have a tense battle with Banham boys, finishing level on points but pipping them to the post by winning more events outright.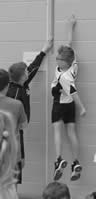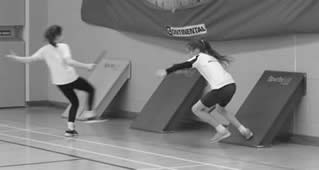 All the teams will now compete against winning schools from all over Norfolk in the Norfolk School Games County Finals in February.
---
Year 5/6 and 3/4 Girls
Reach Football Finals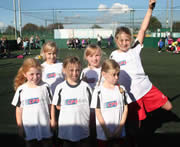 Both the year 5/6 team and the 3/4 team played a exhausting day's football at the Norwich GOALs centre on Thursday 11th October, competing in the largest South Norfolk Girls Football Tournament to date. The year 3/4 team , using last year's experience (where the team were unable to record a victory), only lost one game in normal time during the day, winning 4. After finishing second in the group stages, they qualified for the final and were only beaten in extra time, 2-1, by Robert Kett - both teams competing against large schools throughout the day.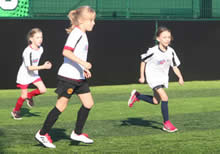 Similarly, the year 5/6 girls won through their group stages, banging in a huge number of goals through the day. In their final, one nil up, they were a mere 50 seconds away from winning a gold medal and a place in the county final, before Robert Kett scrambled an equaliser, going on to snatch victory 2-1 in extra time. Again Wreningham have shown they can compete on equal terms with schools with huge numbers of players to choose from - a testament to the girls effort and determination to improve.
Many thanks to Mrs Rees who managed the year 3/4 team, and to those parents who supported our children.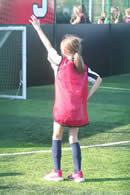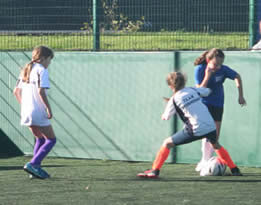 ---
June 2018
County Netball Champions
The Wreningham netball team swept all before them in an astounding demonstration of devestating netball, cruising their way through the qualifying rounds, quarters and semi-finals, blowing the opposition away in the final, 8-1. The team have really come together this year and produced some incredible fast-paced netball.
Having won through boith the cluster and South Norfolk tournaments, winning every game and giving the opposition only rare chances to score, they once again hit the heights, reaching double figures in many games. They have now set the standard for all future Wreningham teams to aspire to.
Well done on achieving the School Games Gold medal.
Girls Cricketers Cap off Year with
Greatest Sporting Achievement:
County Cricket Silver Winners
In an incredible finish to the year, the year 6 girls cricket team defied all the odds and won the silver medal in the the Norfolk School Games county finals - a tournament with no discrimination between large and small schools and consisting of 16 of the best girls school-cricket teams in the county.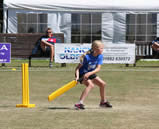 It was an incredible achievement to represent South Norfolk, nevermind winning all their group and knockout games right through to the final, including knocking out large schools, Holt and Woodlands 'A', who are regular finalists. All our year 6 girls were team members and they should be proud of the hard work they have put in this year to reach such heights.
In the final, they were narrowly defeated by previous two times winners, St.Williams, by only 10 runs - equivalent to 2 wickets. Although there were tears that we came so close to winning, when the girls realised their achievement it was all smiles. Special mention must be given to Carly, with an incredible 4 sixes hit on the bounce in the semi-finals, and consistently huge scores by Ruby. This must go down as one of the greatest sporting achievements ever at Wreningham.
---
June 2018
South Norfolk Girls Cricket
Champions and Runners Up
Congratulations to the two Wreningham Girls Cricket teams who batted and bowled brilliantly at the recent South Norfolk Cricket tournament. Melton cricket club was the beautiful venue for the day long tournament in the sun. Both teams did exceptionally well, hitting fours all over the place with some great catches , especially from the year 5 team.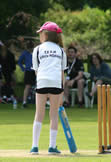 After a full morning of cricket, both teams had won all their games and qualified for their individual finals in the afternoon. Both games were incredibly tense , with every run, wide and wicket changing the outcome by the minute.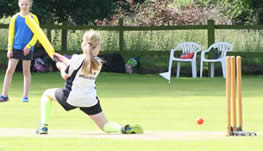 When the final scores came in, the Year 6 team had beaten Banham by 40 runs, but unfortunately the Year 5 team had just missed out to Robert Kett by only 16 runs. Everyone played their hearts out and the year 5s did extraordinarily well in their first girls tournament. We wish the Year 6 girls luck in their quest for a bronze, silver or gold in the School Games County final in two weeks at Horsford. Thank you to all those parents who helped out and supported the girls during the day.
---
May 2018
South Norfolk Netball Champions  
The sun beat down on the UEA Sportspark as two of our netball teams competed in the South Norfolk Sports Partnership Tournament, hoping to gain a place in the School Games County Finals. Wreningham has narrowly missed out winning this tournament over the last couple of years but this year's teams have been training exceptionally hard at school. The quality of netball played this year is outstanding and other schools have not been able to match the determination and skill of our year 6 players.
.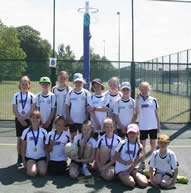 Two teams of champions... Collecting our medals...
After a grueling day of fast-paced netball, one of the Wreningham teams came out on top, winning all 6 games, scoring over 50 nets and conceding only 2 - an incredible performance!. The other team started off slowly, but were soon into their stride completing the day with two excellent wins on the trot. Good luck to the A team as they try to better last year's bronze medal in the School Games County Finals in June.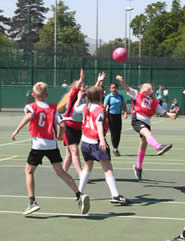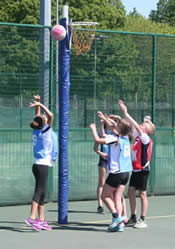 Battling hard for Possession.... Cool, calm , accurate shooting...
Taking shelter from the sun on an incredibly hot day at the UEA Sportspark...
---
May 2018
            British Hockey
Emerging Schools Tournament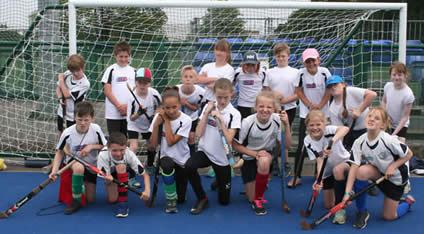 On a breezy afternoon in May, the newly crowned athletics champions were joined by some of their classmates to take part in the British Hockey Emerging Schools Tournament. Once again, Wreningham showed just how much we love our sport, bringing 3 teams to compete - more than any other school.
Wreningham attack... That's what I think of that teamtalk...
The tournament was really well organised, with over 20 teams competing in 6 tournament groups. All the teams finished an excellent 2nd place in their groups, with Team 3 missing out on bringing home the trophy by an agonizing 1 goal on goal difference. Everyone got the chance to play lots of hockey on a nice smooth pitch - light years away from our bumpy playground where we've been honing our skills in after school club.
Team Wreningham take the game to the opposition...
---
May 2018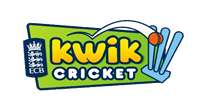 Cricketers Compete on Same Day
Well done also to the class 4 kwik cricket team who were competing at the same time at Melton Cricket Club with Mr Jones. You were a real credit to our school with your sportsmanship and respect - and Mr Jones reports there were some fine performances from many children in their first ever cricket tournament.
---
May 2018
            Congratulations to 3/4 and 5/6 Quad Athletics S. Norfolk Champions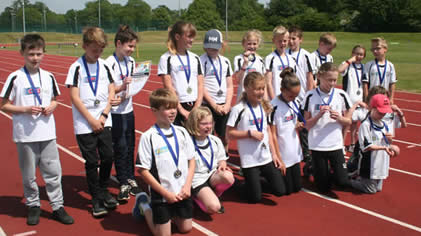 In another incredible year for sport at Wreningham, both the Year 3/4 and the Year 5/6 athletics teams won the South Norfolk Partnership Quad Athletics final at the UEA this month. Both teams ran, jumped and threw their way to the most points achieved on the day. This is a team event, with everyone's distances and times being scored and contributing to the team total.
Run... Jump... and throw...
Particular congratulations to those children who put themselves through the pain barrier on the long distance element of this competition, with the races setting a gruelling pace around the 200m track. Both teams have now qualified for the School Games County Finals in June. This is an open event, pitting small and large schools against each other so the achievement of the teams is already outstanding. Lets hope we can bring back some medals for Wreningham - particularly for the year 3/4 boys who missed out on a medal in the indoor athletics by a hair's breath in January.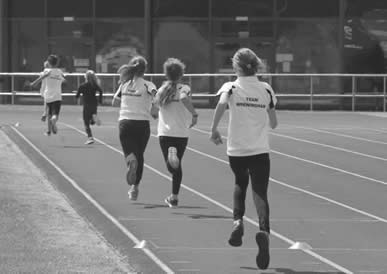 Wreningham teamwork win the day again...
---
May 2018
                'May 4th Be With You'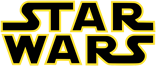 Class 4 Celebrate Star Wars Day and Raise Money for Charity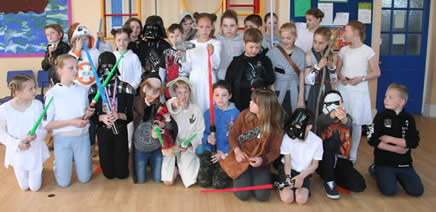 Class 4 travelled to a galaxy 'far...far away' on May 4th, international Star Wars day. There were some incredibly clever costume designs, ranging from a host of Princess Leias, a trio of Reys and not to mention those members of the dark side. Congratulations to Violet and Poppy who won the costume of the day awards.The crackle of light sabres could be heard throughout the school, although the jedi mind trick did not seem to work on the Imperial Stormtrooper who seemed to be teaching the class that day.. It was a fun way to celebrate the day, and raise some money for charity. Well done Class 4.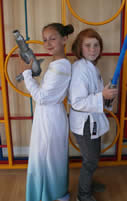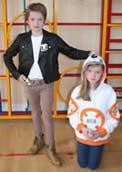 1, 2,3 Reys... Leia and Luke... Poe and BB8...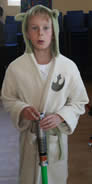 Leias everywhere ! Yoda...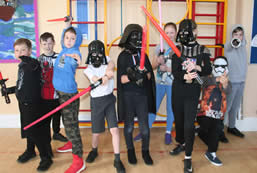 The Dark Side Rises.... ... and Light to meet it.
---
May 2018
                Congratulations
to the Tri-Golf Team   

Well done to the year 3/4 tri-golf team who enjoyed a fun and competitive day at Barnham Broom Golf Club, taking part in our first tri-golf competition - The South Norfolk Partnership Tri-Golf Tournament. The five boys and girls from class 3 represented our school brilliantly and thoroughly enjoyed their first experience of this event. Hopefully, we will be able to introduce this sport into school next year so that everyone can try out something new.

After a morning on the range, the team finished a fantastic 5th out of the 12 teams competing. Well done to everyone who took part, and thank you to those parents who helped out.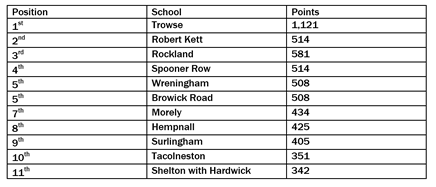 ---
May 2018
Wreningham Win Wymondham
Netball School Games Tournament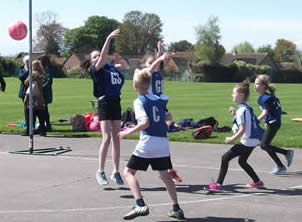 One of our incredible netball teams breezed through the Wymondham tournament this week, scoring an incredible 36 points in their 6 matches. They have now earned a place in the South Norfolk School Games finals at the UEA, and hope to once again make it to the county finals, where last year they picked up a bronze medal.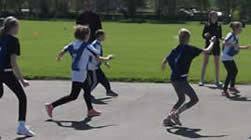 We took a total of three teams to this event (22 children!), more than any school, and everyone who took part played with determination and skill - many experiencing this sport in competition for the first time. The sunshine added to the event and everyone, including many parents who had come to Wymondham High to watch, enjoyed the some very competitive and exciting games, all played in a great spirit. Good luck to our winning team at the end of May in the UEA finals.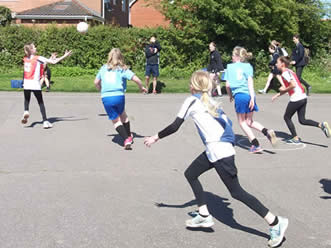 ---
April 2018
Year 3/4 and 5/6 Teams Win
Wymondham Quad Athletics Comp.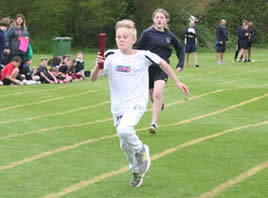 The Wymondham High School field was the venue for the inaugural Wymondham Quad athletics competition,and Wreningham took both an upper and lower key stage two team to compete. The event consists of a mixed boys and girls team, with each member competing in a sprint, a long distance run, a long jump and a vortex throw. Times and distances are then scored and the teams total added.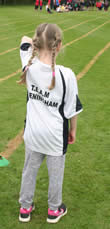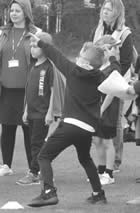 Once again Wreningham children showed how high they set their expectations in sport and walked away as winners of both competitions. Special congratulations must go to Hannah, who was competing against children a year older yet still finished with huge scores. Thank you also to all those parents who came to support the children. Both teams now qualify to represent Wymondham in the South Norfolk finals at the UEA in May. Good luck everyone.
---
March 2018
Year 5/6 Girls Footballers
Finish 4th in County Finals !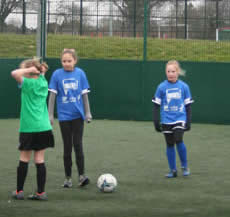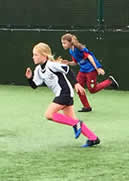 Well done to the year 5/6 girl's football team, who represented South Norfolk in the Norfolk School Games All Schools County Finals. The grit and determination shown by the teams was incredible on the coldest and wettest of days you could imagine. In near zero temperatures, they fought their way successfully through the morning group stages unbeaten, qualifying for the grand final groups in the afternoon.
A second place finish in their champions group led to a play-off for the bronze medal, where they narrowly missed out , 1-0, in the final two minutes against a team they had already beaten earlier in the day. There were some tears of disappointment but these soon dried up when the girl's realised their achievement at finishing 4th in the county, and having competed against a host of large schools. A special well done to Poppy, who played through illness and was a great example to those girls who think football may not be for them - her grit and determination deservedly won her our player of the tournament..
---
February 2018
County Champions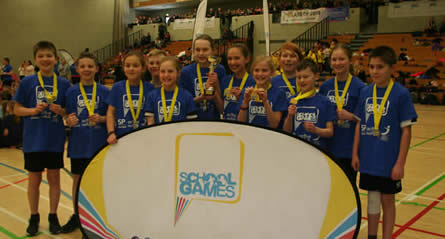 A huge congratulations to our year 5/6 athletics team who have won the small schools School Games County Indoor Athletics finals for the very first time. After several years of competing near the top and picking up silver and bronze medals, this year's team blew away all opposition with their incredible times and distances, winning the event by a huge 20 points.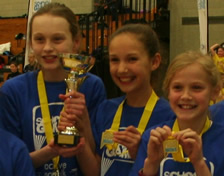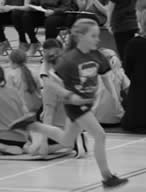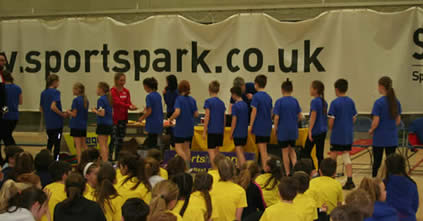 The 2018 winner's trophy is now proudly displayed in the school trophy cabinet if you want to take a look. Thank you to all those parents who once again helped with transport and support. All those hours of practise at after school athletics club obviously paid off.
Year 3/4 Athletics
Compete Against Large Schools
(and miss out on a medal by a hair's breath)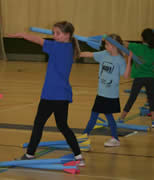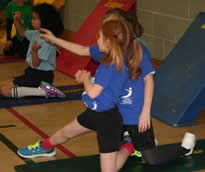 Congratulations to our very first year 3/4 athletics team who competed in the county final of the School Games at the UEA. Both the boys and girls teams earned their place through winning both cluster and South Norfolk competitions against schools much larger than Wreningham, representing the small schools of Norfolk brilliantly. In fact, the winning school had over 120 year 3s and 4s to select from.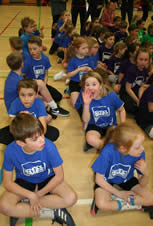 The girls team finished 6th, with some particularly strong field event performances,. The boy's team competition was closer than anyone could have predicted, with only 6 points between Gold and 4th place. Wreningham missed out on a medal by one place in any of the 12 events.
That literally means they missed out on a medal 1 cm, or less than a second.in one race! This was an incredible achievement - and great experience for next year. Thank you to the huge number of parents who came to support; the children really appreciated this.
---
January 2018
CASMA Concert
Norfolk-Asian Fusion
Once again, the Norfolk Music Service gave the upper Key Stage 2 children the opportunity to take part in a fantastic choral event, this year combining traditional Norfolk songs with an Asian musical influence. Children from year 5 and 6 have been practising their performance over the last couple of months, including a full rehearsal at the Theatre Royal. This year, the event comprised of a live band and leading singer, adding a reallly special feel to the whole performance.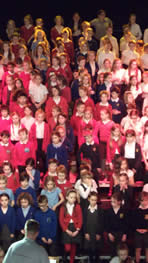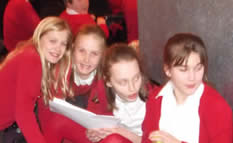 The final performance brought the house down at Open in Norwich, with the children having the opportunity to sample some Asian cusine during the day's rehearsals. Once again, this was a real unique experience for many children and all the parents and families who attended were treated to an incredibly professional, enjoyable evening.
---
January 2017

Indoor Athletics

***UPDATE***
All Three Teams Win
South Norfolk Finals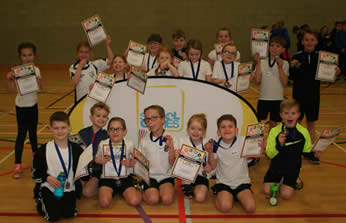 On January 23rd and January 24th, the Year 5/6 indoor athletics team and the year 3/4 boys and girls athletics teams took up their places in the South Norfolk Finals at the UEA. After an incredible morning of competition: throwing, jumping and running, Wreningham achieved gold for all three competition events: Year 5/6 team Small Schools winners, Year 3/4 Girls winners and Year 3/4 Boys winners. The Year 3/4 results were even more astounding as this competition does not discriminate between large and small schools (<120 pupils), and so we were competing against schools many more children to choose their best athletes from.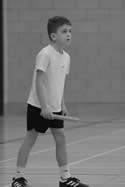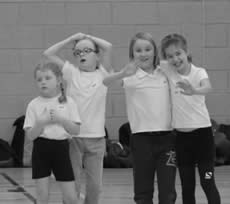 Over two thirds of our year 3/4 class have competed this year, with many children experiencing winning a medal in competition for the very first time. All that practise and determination in school to beat our personal bests has paid off, with other schools wondering why all our teams did so well - practise makes perfect, and our huge numbers at after school sports clubs makes for fitter, more enthusiastic and more accomplished athletes. All three teams will now compete in the wonderful School Games County Final at the UEA on Monday 26th Februrary. Thank you to all those parents who helped with transport yet again..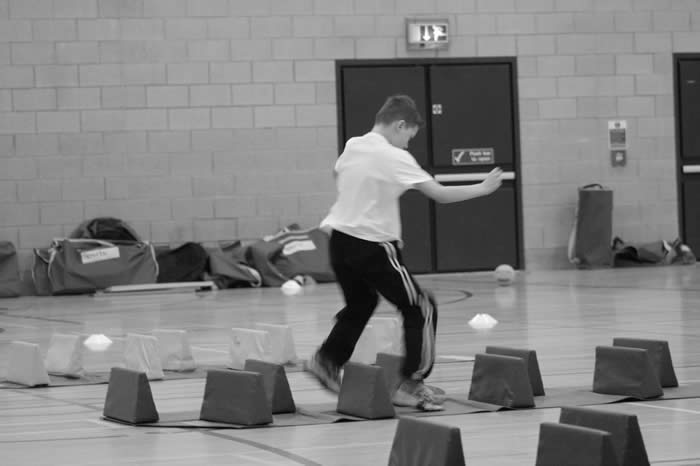 Year 3/4 and Year 5/6
Athletics Cluster Champions
On Wednesday 9th and Friday 12th January, two teams of athletes from Wreningham took part in the cluster Sportshall Athletics event. This competition was orgnanised by Wreningham, with the help of Wymondham High School , who provided the use of their great sportshall facility and year 9/10 sports leaders to help officiate.
In total we provided the opportunity for over 300 children to take part - with 5 large schools and 4 small schools competing..
Incredibly, the Wreningham teams finished clear winners in both events, even out jumping, throwing teams from significantly larger schools - a testament to the high expectations in PE attainment at Wreningham and the determination of the children to achieve the highest standards. Well done to everyone who took part, and the parents who helped out with transport.
Good luck to the children who have earned a place in the South Norfolk Finals in two weeks time at the UEA.
---
November 2017
Cluster Champions
(Three teams compete superbly)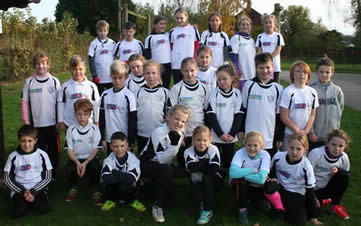 Congratulations to our latest Cluster Tag Rugby Champions, who scored their way to the cluster final on Tuesday 7th November. Due to our children's incredible appetite and enthusiasm to compete at every sport available, we once again were able to field three skilled teams in the cluster competition - a total of 26 players, almost the whole of year 5 and 6. Everyone who actively wanted to take part was given the chance to compete - with many children having never taken part in such a tough competition before. All those cold , wet Monday night after-school rugby club sessions have clearly been beneficial - our children getting fitter and fitter, not to mention becoming very skilled players. You should all be very proud of your great efforts and positive attitude. Thank you also to those parents who were able to ferry our children to the event at Robert Kett school.

With one team winning the grand final, being unbeaten throughout, a second Wreningham team missed meeting them by a hair's breath, narrowly losing their semi-final 7-6 in a nail-biting extra-time play-off. Team three started slowly but were up to full speed by their final game, beating their opposition with a show of pace and skill. Thank you to all our children, who again showed excellent respect for their opponents and represented our school wonderfully.
Our winning team will now go forward to compete in the South Norfolk finals in March - good luck and cross your fingers it's not as cold as last year.

---
October 2017

Year 5/6 Girls Win South Norfolk
All-Schools Girls Football Finals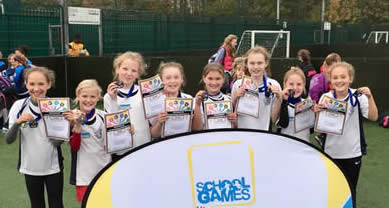 Congratulations to our Year 5/6 girls football team, who have won the South Norfolk Girls Football Finals, held at Bowthorpe Football Centre. This is an incredible achievement, the competition being open to both large and small schools. Wreningham were the only team to go through the tournament unbeaten, winning 5 and drawing three of their games - in a round robin tournament where everyone played everyone else.
All those extra after-school hours on Thursday evenings definitely paid off, with the girls being relative beginners to tournament football. Some disciplined defending resulted in only two goals being conceded in total all day. All the games were played in fantastic spirit and with respect for the other teams. There's lots of hard work to be done now in preparing for the County School Games Finals in March, but with that Wreningham Warrior spirit, we know the team will punch well above their weight against the other large school finalists.

Further congratulations to the Year 3/4 team who competed for the first time in their age group. The girls put up a great fight against some tough teams and this will give them some invaluable experience in the years to come. They were also able to see first hand how the older girls achieved success through total teamwork and unquestioning support for each other.
---
October 2017
Harvest Festival
Thankyou to everyone who donated produce to our harvest celebration. The whole school met in the village hall to celebrate our annual harvest festival, Each class contributed with songs and poems, with our reception class performing in front of the school for the first time with no hint of nerves.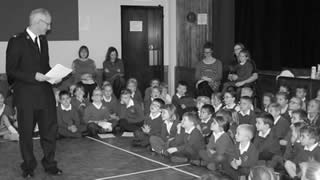 We invited the Salvation Army to come and speak to us, and we were told how our donations would help those people in need around the Norwich Area. Our celebration is always a timely reminder to think about those who are less fortunate than ourselves, and to thank those involved in producing our food - especially relevant given the importance of our county in growing food for the whole country. .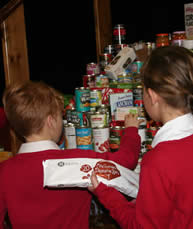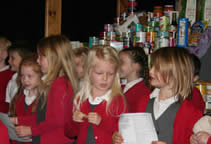 Class 4 perform their rap-style 'Cauliflower' harvest song.

---
September 2017
The Circus is in Town!

Circus Ferrel arrived in the first week of school to inject some circus fun to the start of the new school year.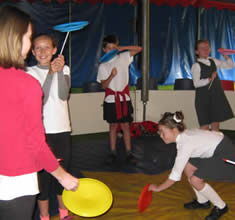 The whole school watched as the circus big top was pitched in the big field, then every class visited through the day to meet the performers and some circus skills.

Everyone got the chance to learn some new skills : throwing the diablo, juggling and even tight rope walking. In the evening, during the full performance, many of the children joined the performers in the ring and become stars of the show, with even our Head, Mr Jones, making a guest appearance,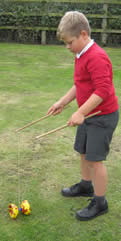 Who would have guessed you could have so much fun with two socks, two tennis balls and a circus big top.
---
---
---

Take a trip down

Memory Lane:
Click here to visit the archive of school events: a reminder of all the incredible things which have taken place in our wonderful school over the last few years.