May 2018
Wreningham Win Wymondham
Netball School Games Tournament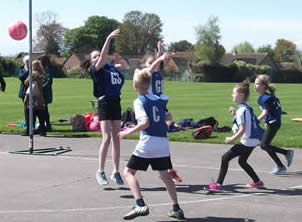 One of our incredible netball teams breezed through the Wymondham tournament this week, scoring an incrdible 36 points in their 6 matches. They have now earned a place in the South Norfolk School Games finals at the UEA, and hope to once again make it to the county finals, where last year they picked up a bronze medal.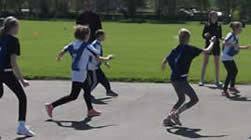 We took a total of three teams to this event (22 children!), more than any school, and everyone who took part played with determination and skill - many experiencing this sport in competiton for the first time. The sunshine added to the event and everyone, including many parents who had come to Wymondham High to watch, enjoyed the some very competitive and exciting games, all played in a great spirit. Good luck to our winning team at the end of May in the UEA finals.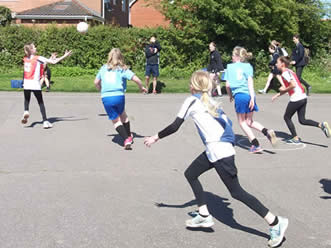 April 2018
Year 3/4 and 5/6 Teams Win
Wymondham Quad Athletics Comp.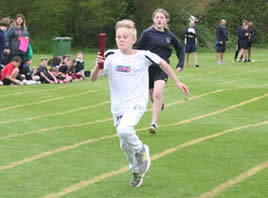 The Wymondham High School field was the venue for the inaugeral Wymondham Qyad athletics competition,and Wreningham took both an upper and lower key stage two team to compete. The event consists of a mixed boys and girls team, with each member competing in a sprint, a long distance run, a long jump and a vortex throw. Times and distances are then scored and the teams total added.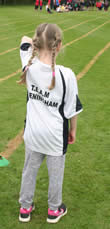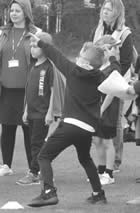 Once again Wreningham children showed how high they set their expectations in sport and walked away as winners of both competitions. Special congratulations must go to Hannah, who was competing against childern a year older yet still finished with huge scores. Thank you also to all those parents who came to support the children. Both teams now qualify to represent Wymondham in the South Norfolk finals at the UEA in May. Good luck everyone.
March 2018
Year 5/6 Girls Footballers
Finish 4th in County Finals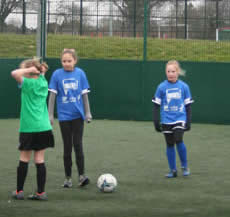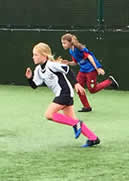 Welll done to the year 5/6 girl's football team, who represented South Norfolk in the Norfolk School Games All Schools County Finals. The grit and determination shown by the teams was incredible on the coldest and wettest of days you could imagine. In near zero temperatures, they fought their way successfully through the morning group stages unbeaten, qualifying for the grand final groups in the afternoon.
A second place finish in their champions group led to a play-off for the bronze medal, where they narrowly missed out , 1-0, in the final two minutes against a team they had already beaten earlier in the day. There were some tears of disappointment but these soon dried up when the girl's realised their achievemnt at finishing 4th in the county, and having competed against a host of large schools. A special well done to Poppy, who played through illness and was a great example to those girls who think football may not be for them - her grit and determination deservedly won her our player of the tournament..
February 2018
County Champions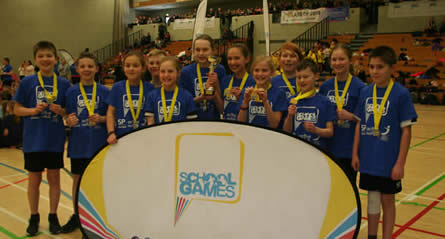 A huge congratulations to our year 5/6 athletics team who have won the small schools School Games County Indoor Athletics finals for the very first time. After several years of competing near the top and picking up silver and bronze medals, this year's team blew away all opposition with their incredible times and distances, winning the event by a huge 20 points.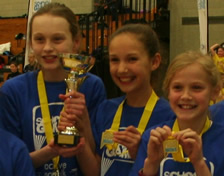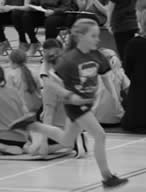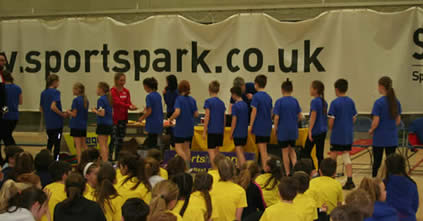 The 2018 winner's trophy is now proudly displayed in the school trophy cabinet if you want to take a look. Thank you to all those parents who once again helped with transport and support. All those hours of practise at after school athletics club obviously paid off.
Year 3/4 Athletics
Compete Against Large Schools
(and miss out on a medal by a hair's breath)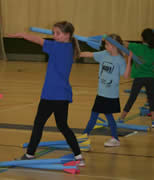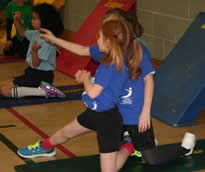 Congratulations to our very first year 3/4 athletics team who competetd in the county final of the School Games at the UEA. Both the boys and girls teams earned their place through winning both cluster and South Norfolk competitions against schools much larger than Wreningham, representing the small schools of Norfolk brilliantly. In fact, the winning school had over 120 year 3s and 4s to select from.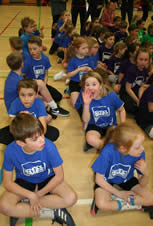 The girls team finished 6th, with some particulary strong field event performances,. The boy's team competition was closer than anyone could have predicted, with only 6 points between Gold and 4th place. Wreningham missed out on a medal by one place in any of the 12 events.
That literally means they missed out on a medal 1 cm, or less than a second.in one race! This was an incredible achievement - and great expereince for next year. Thank you to the huge number of parents who came to support; the children really appreciated this.
January 2017

Indoor Athletics

***UPDATE***
All Three Teams Win
South Norfolk Finals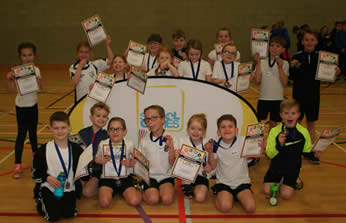 On January 23rd and January 24th, the Year 5/6 indoor athletics team and the year 3/4 boys and girls athletics teams took up their places in the South Norfolk Finals at the UEA. After an incredible morning of competition: throwing, jumping and running, Wreningham achieved gold for all three competition events: Year 5/6 team Small Schools winners, Year 3/4 Girls winners and Year 3/4 Boys winners. The Year 3/4 results were even more astounding as this competition does not discriminate between large and small schools (<120 pupils), and so we were competing against schools many more children to choose their best athletes from.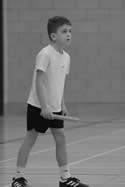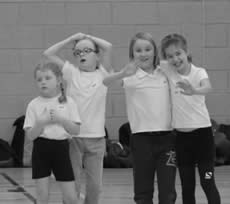 Over two thirds of our year 3/4 class have competed this year, with many children experiencing winning a medal in competition for the very first time. All that practise and determination in school to beat our personal bests has paid off, with other schools wondering why all our teams did so well - practise makes perfect, and our huge numbers at after school sports clubs makes for fitter, more enthusiastic and more accomplished athletes. All three teams will now compete in the wonderful School Games County Final at the UEA on Monday 26th Februrary. Thank you to all those parents who helped with transport yet again..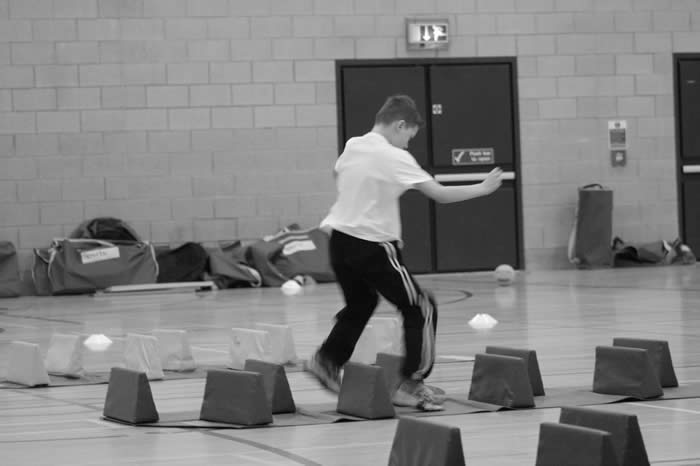 Year 3/4 and Year 5/6
Athletics Cluster Champions
On Wednesday 9th and Friday 12th January, two teams of athletes from Wreningham took part in the cluster Sportshall Athletics event. This competition was orgnaised by Wreningham, with the help of Wymondham High School , who provided the use of their great sportshall facility and year 9/10 sports leaders to help officiate.
In total we provided the opportunity for over 300 children to take part - with 5 large schools and 4 small schools competing..
Incredibly, the Wreningham teams finished clear winners in both events, even out jumping, throwing teams from significantly larger schools - a testament to the high expectations in PE attainment at Wreningham and the determination of the children to achieve the highest standards. Well done to everyone who took part, and the parents who helped out with transport.
Good luck to the the children who have earned a place in the South Norfolk Finals in two weeks time at the UEA.
---
November 2017
Cluster Champions
(Three teams compete superbly)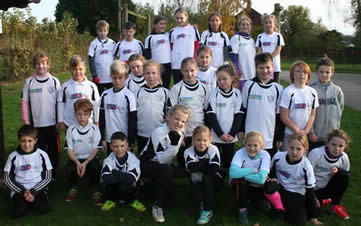 Congratulations to our latest Cluster Tag Rugby Champions, who scored their way to the cluster final on Tuesday 7th November. Due to our children's incredible appetite and enthusiasm to compete at every sport available, we once again were able to field three skilled teams in the cluster competetion - a total of 26 players, almost the whole of year 5 and 6. Everyone who actively wanted to take part was given the chance to compete - with many children having never taken part in such a tough competition before. All those cold , wet Monday night after-school rugby club sessions have clearly been beneficial - our children getting fitter and fitter, not to mention becoming very skilled players. You should all be very proud of your great efforts and positive attitude. Thank you also to those parents who were able to ferry our children to the event at Robert Kett school.

With one team winning the grand final, being unbeaten throughout, a second Wreningham team missed meeting them by a hair's breath, narrowly losing their semi-final 7-6 in a nail-biting extra-time play-off. Team three started slowly but were up to full speed by their final game, destroying their opposition with a show of pace and skill. Thank you to all our children, who again showed excellent respect for their opponents and represented our school wonderfully.
Our winning team will now go forward to compete in the South Norfolk finals in March - good luck and cross your fingers it's not as cold as last year.

---
October 2017

Year 5/6 Girls Win South Norfolk
All-Schools Girls Football Finals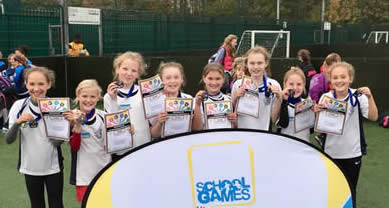 Congratulations to our Year 5/6 girls football team, who have won the South Norfolk Girls Football Finals, held at Bowthorpe Football Centre. This is an incredible achievement, the competition being open to both large and small schools. Wreningham were the only team to go through the tournament unbeaten, winning 5 and drawing three of their games - in a round robin tournament where everyone played everyone else.
All those extra after-school hours on Thursday evenings definately paid off, with the girls being relative beginners to tournament football. Some disciplined defending resulted in only two goals being conceded in total all day. All the games were played in fantastic spirit and with respect for the other teams. There's lots of hard work to be done now in preparing for the County School Games Finals in March, but with that Wreningham Warrior spirit, we know the team will punch well above their weight against the other large school finalists.

Further congratulations to the Year 3/4 team who competed for the first time in their age group. The girls put up a great fight against some tough teams and this will give them some invaluable experience in the years to come. They were also able to see first hand how the older girls achieved success through total teamwork and unquestioning support for each other.
---
October 2017
Harvest Festival
Thankyou to everyone who donated produce to our harvest celebration. The whole school met in the village hall to celebarte our annual harvest festival, Each class contributed with songs and poems, with our reception class performing in front of the school for the first time with no hint of nerves.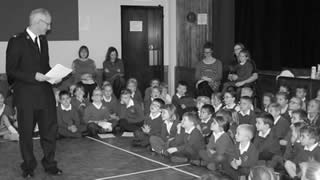 We invited the Salvation Army to come and speak to us, and we were told how our donations would help those people in need around the Norwich Area. Our celebration is always a timely reminder to think about those who are less fortiunate than ourselves, and to thank those involved in producing our food - especially relevant given the importance of our county in growing food for the whole country. .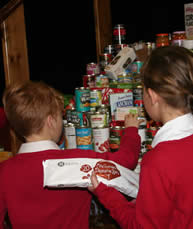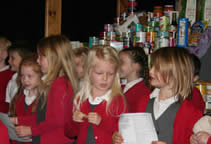 Class 4 perform their rap-style 'Cauliflower' harvest song.

---
September 2017
The Circus is in Town!

Circus Ferrel arrived in the first week of school to inject some circus fun to the start of the new school year.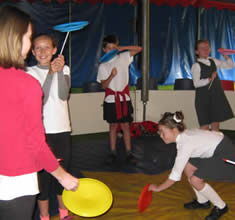 The whole school watched as the circus big top was pitched in the big field, then every class visited through the day to meet the performers and some circus skills.

Everyone got the chance to learn some new skills : throwing the diablo, juggling and even tight rope walking. In the evening, during the full performance, many of the children joined the performers in the ring and become stars of the show, with even our Head, Mr Jones, making a guest appeasrance,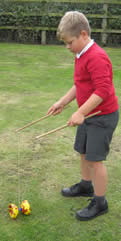 Who would have guessed you could have so much fun with two socks, two tennis balls and a circus big top.
---
Take a trip down Memory Lane:
---
Here's a reminder of all the incredible events which have taken place in our wonderful school over the last few years.
Our Annual Art Exhibition
Wows Visitors
he 2015 Wreningham Children's Art Exhibition opened on Friday 26th for one viewing only, and the crowds packed in. On display was some wonderful art covering a whole range of themes and techniques, produced by the children this year. Thmes include, Shakespeare, The London Blitz, Land and Seascapes, Greek Mythology and plantlife, along with 3D sculpture. A huge thank you to the 'Friends' who provided tea and coffee for the admiring visitors.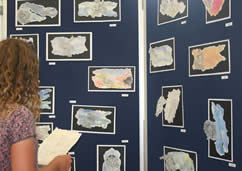 Pay a visit to the exhibition through this link ;
you'll be amazed at how talented our children really are!

---
Football Stars Win
County Bronze Medal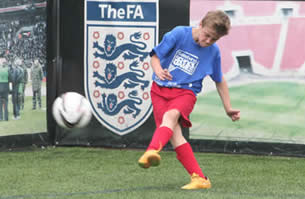 Once again, the super talented children of Wreningham have claimed another Sainsburys School Games medal, winning bronze at the small schools county football finals. The team played in unbeleivably hot conditions and the effort and sheer determination they put in was incredible.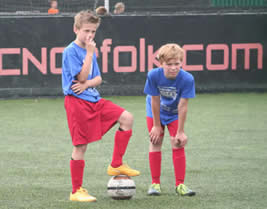 Pondering how to take this free kick...
They sailed through the qualifying group, winning every match, and were narrowly beaten in the semi-final.by a strong Fairhaven team, after almost clawing their way back into the game after a slow start. The final game involved a play-off for the bronze medal, the hurdle they missed out on last year - but this year it was different and the team finished victorious with a 4- 2 win over Witchingham.
.

Lining up for medals...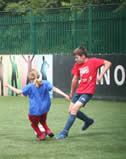 So the final inter school sports competition of the year finished as the year started , with another School Games medal. This has been an incrdible year of sports success, with three county finals, and gold, silver and bronze all won - the complete collection. Well done and thank you to all our wonderful children - you always represented our school superbly, played fair and showed great respect to our competitors. We are so proud of you.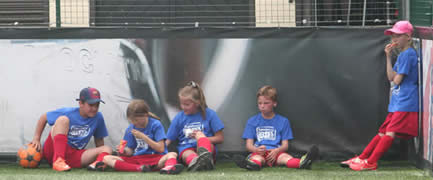 Playing in these temperatures is exhausting...
County success again... well done
---
The Wreningham Election
100% Turnout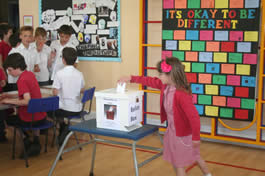 In goes the vote...can't change your mind now.
Never mind the National Election 2015, there was election fever in Wreningham on 7th May when children voted for their 'Head for the Day' cndidates. There was some furious electioneering inthe proceding weeks , with strong manifestos from the four year 6 candidates.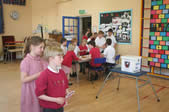 The officers ensure your name is on the list... and they queue round the block
CLICK HERE FOR THE WHOLE STORY
The whole school turned out to vote, which must be the biggest turnout in British election history. It was great for the children to experience the same process as their parentswent through on the big day, having to check they were on the electoral roe, pick up their voting card, enter the booth and make their decision - finally popping their vote in the ballot box.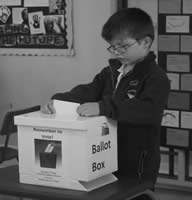 Who won...
what were they promising...
and can they deliver on their promises?
CLICK HERE FOR THE WHOLE STORY
---
Cricket Fever
Girls Pull off Shock and Boys Qualify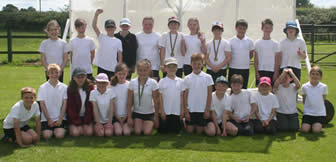 The month of May brought cricket season to Wreningham, with both girls and mixed tournaments at Great Melton Cricket club. The firstcluster tournament found us pitted against two teams from Robert Kett Junior School, a huge school with ten times the number of children to choose from for their sports teams. This being Wreningham, we gave everyone who wanted to play a chance, taking three teams, including those children desperate to play a new competitive sport for the first time.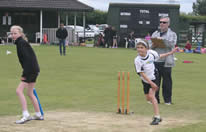 Face bowling... Exhausting...
The girls team were gaining practise for their own competition the following week butt that didin't stop them. They certainly pulled off he performance of the whole year by beating the Robert Kett first team by 2 runs- an incredible achievement.
At the end of the day, the bots team then managed to finish secnd and qualify for the South Norfolk finals.
A week later,, two girls teams played fantastically well in freezing conditions, and gained huge experience ready for a big assault next year. Lily in particular showed she has an untapped talent at batting, with Harriet thundering her bowling down the wicket.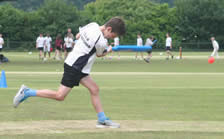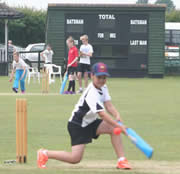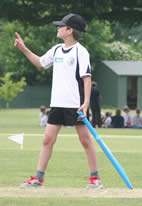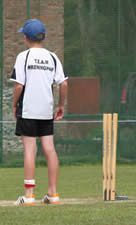 Showing off the new Wreningham Team sports kit
The mixed cricket finals comprised of fourteen, on a scorching hot Friday in May. After some amazing performances, the Wreningham team only lost one game during the tournament (by 4 runs), finishing a superb 5th overall, which considering this is an open large/small school competition is an incredible achievement. Huge mention must be made of Tom miraculous batting performances, not least in the final game, where he hit 17 in his last over to win the match- including the two sixes needed in the last two balls - the stuff of dreams.

Another boundary...
---
---
Prayer Space Week
During the last week of term, the 'New Build' was transformed into a school 'Prayer Space' - a calm, quiet environment where children could visit to think, reflect, say or write a prayer or just simply experience some quiet time.
There were lots of activities to try in the relaxing atmosphere created in the room. Each activity encouraged the children to think about themselves and others, and the things which are special within their lives. The response to the week was an emphatic 'We loved it!', with many children visiting the room in their freetime at break and lunch. A big thank you to Mrs Benson in her last week at school for organising this new experience for everyone.
Click on the image below to visit the room.
---
Indoor Athletics Silver Medalists
in Norfolk County Games Finals
Wreningham children show their class!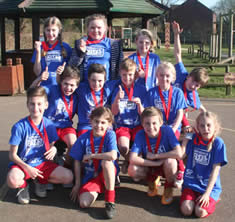 If success at the county Rugby finals wasn't enough, the sports mad children of Wreningham went and did it again this week, at the Norfolk County Games Indoor Athletics Final. The team of twelve ran, threw and jumped their way to nailing-biting silver success after an amazing experience at University Sportspark on Friday 6th March. This was a real team effort, with partners working together in field events to combine their scores, and relay teams pushing every muscle and sinew to get over that line.
Download the Days Results Here (pdf)

The nerves were clear to see during the day, with many children in the team competing in a final for the very first time. We have again shown that giving every child a chance to compete on the big stage can produce some huge surprises and give all children a chance to shine. Everyone connected with Wreningham is extremely proud of the way you have pushed yourselves and represented our school this year - and the sporting year is not yet finished.
Click the link to the right to visit the NORFOLK SCHOOL GAMES site for news and photos from the events.
---
Rugby Small School Champions
in Norfolk County Games Finals
... long, hard journey ends in SUCCESS!
After months of fighting their way through the toughest tournaments, heart-stopping semi-finals, and incredible come-backs, the Wreningham Warriors reached their goal - the final of the Norfolk County Games Tag Ruby Finals. After some tough group qualifying in the morning session, against the best teams from all over the county, the team won the group outright, again going unbeaten. This entitled them to compete in the County Cup Competition in the afternoon. Again Wreningham topped the cup group, reaching the champions final. After an incredibly close match, Wreningham lost out 5-4 to large school, Coltishall, and although tinged with a little disappointment that they didn't win the final match, the team were crowned Small School Champions, an outstanding achievement over the last three months.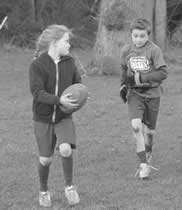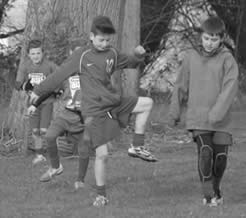 Wreningham warm up before the tournament...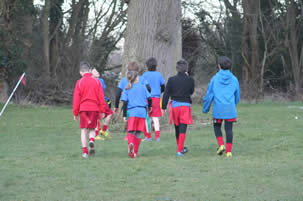 Contemplating the tough games ahead...
Only finishing top of the group would do to qualify for the grand final game. Just when it looked as if their dreams would be shattered, at 3 - 0 down in the second game, the comeback of all time astounded the crowd, inspired by Man of the Tournament, Tom. An incredible 5-4 victory put the team back on track, and a subsequent convincing 6-4 win put them in the final. It was an incredible experience, and one the children, and parents and grandparents will never forget. Once again, we had some amazing support from the sidelines - thank you to all those family members who helped out and supported the team. If you're lucky, you might get to have a look at their superb silver medals, which we're sure they'll be wearing with pride for some time. Well done to the magnificent nine, we are so proud of you!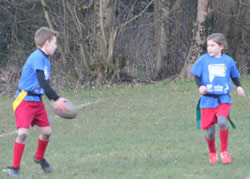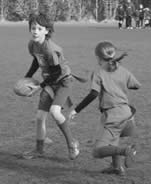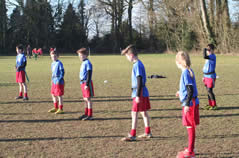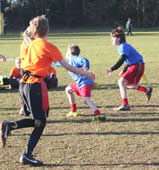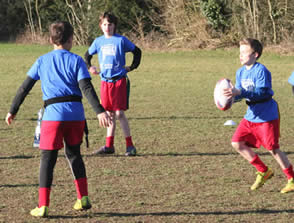 ---
Our Record
4th Green Flag!




We are proud to announce that after a thorough Eco-School inspection, carried out on Thursday 26th February, we have been awarded OUR FOURTH ECO-SCHOOL GREEN FLAG.

Well done to all our Eco-councillors (Megan, Elliott, Millie and Noah) for the articulate and mature manner in which they answered the inspector's questions, and explained the approach our school has taken in order to achieve this award.
Many thanks must go to the hard work and drive of Mrs Eversden, who has helped drive our eco-commitment and run our Eco-club. Also, huge thanks to Mr Foley, who has sponsored our Eco-Schools flag application.The inspector was extremely impressed with the knowledge and enthusiasm shown by the children, along with the friendly, caring atmosphere of our school.
Well done everyone; lets keep up our hard work in keeping our school green.
To learn more about this project, please click on the following link: ecoschools
---
Whole School Trip to
Norwich CastlE & Galleries
... Art, Literacy and History all sewn up!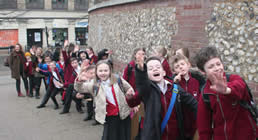 Field-trip excitement!
One of the great advantages of being a small school is that we get the opportunity to do things all together, from reception to year 6. After the huge success of last year's whole school beach trip, we once again left Mrs Sharp to look after the school and boarded the coaches to Norwich Castle.
Storming the castle!
Each class has been working this term on our 'Take One Picture' theme, and three of the classes took the opportunity to visit and work with the original paintings they have been studying in class.
Class 1 were treated to a real castle experience, with the museum staff donning costumes and providing an insight as to what life was really like living in Norwich Castle.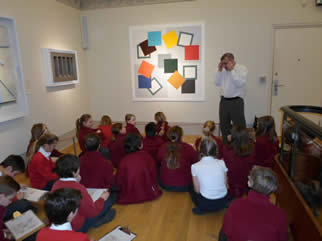 Class 4 explore 'San Fillippo IV' by Mary Webb
Class 2 discuss the incredible 'Paston Treasure' painting
Class 3 study 'Norwich River, Afternoon' by John Crome
Class 1 find out what castle life was really like
---
New Foray into Competitive Basketball
... and another semi-final!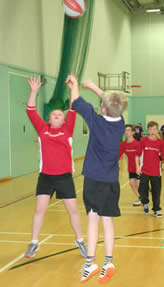 On Wednesday 28th January 7 teams met at Framingham Earl High School for the Wymondham Open Basketball Tournament - another fantastic sporting experience the sports mad children of Wreningham Primary. This was a new competitive sport for all of the children, and the speed and tough competitive nature of the game in a tournament situation was an initial surprise to some of the 'newbies'. However, it wasn't long before the now famous Wreningham tenacity and talent shone through, with both teams competing brilliantly.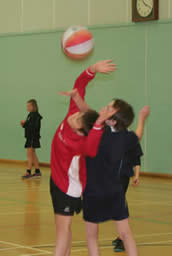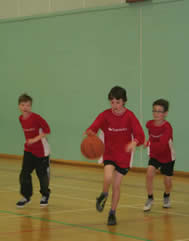 After some tough battles, Wreningham made it through to the semi-final, losing out narrowly with an incredibly 4-0 defeat to a 'big' school, Stoke Holy Cross, the eventual winners and a team who compete on a weekly basis. Following a nail-biting 8-8 3rd place play-off result, , against another large school, St. Mary's, the team just missed out in sudden death penalty throws. A special mention to Katie, who proved a natural at dunking those baskets, and is now discovering just how talented she is on the sports field. A big thank you to all the parents who supported the teams; it was a really enjoyable afternoon and the children soared in confidence as the tournament played out. We are now already looking forward to next years competition.
---
Update - South Norfolk Tag Rugby Finals
Huge Success!
After a gruelling day of competition at Wymondham college, the Wreningham Warriors fought their way through a demanding series of games, often without a break between games. Reaching the semi-final, the team put their supporters, and themselves, through a tense and nail-biting game. With the score at 3-3 at full-time, we eventually won through 2-1 in extra time, making the final and securing one of the two places in the Sainsbury's Winter Games County Finals at Diss Rugby Club - our second county games qualification this year!..
We narrowly lost out in the final to a strong Alpington team, to whom we had drawn with, earlier in the day. The effort, determination and teamwork the children from year 5 and 6 showed was incredible, with losts of tired legs and exhausted children. Your parents and Mr Hodge were extremely proud of your achievement.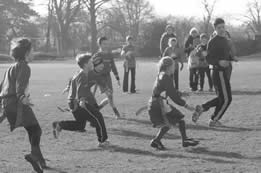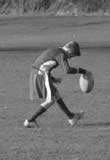 ---
Indoor Athletics
South Norfolk Champions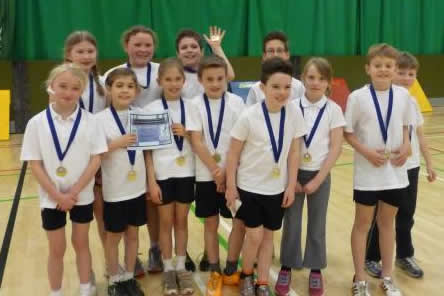 Well done to our fantastic indoor athletics teams, after winning the South Norfolk finals, held at the UEA this month. The whole team competed in both track and field events, including relay, speed bounce, triple jump and indoor javelin. This was a real team effort, with the whole of class 4 contributing to this success following the previous class qualification in the cluster event. The team are now invited to compete at county level in the Sainsbury's Winter Games County Final in March. Good luck everyone; maybe we could bring back yet another gold medal this year!
---
January 2015
Rugby Superstars Triumph Again!
Cluster Finals
Once again, Wreningham showed their grit, determination and skills in the annual Tag Rugby tournament. Two teams competed from Class 4, resulting in some fantastic rugby on cold day at the UEA.
In matches against Tacnolston, Barford, and Spooner Row, both teams performed brilliantly, and showed their sportsmanship at the end of each game. We even played each other in the group stage and it was a credit to all the children how they supported each other in victory and defeat.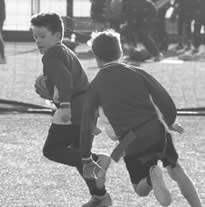 Both our teams made it through to the semi final stage, with one team then going the win the whole tournament and qualify for the South Norfolk finals at Wymondham college in two weeks. Here we will be attempting to finally qualify for the Norfolk School Games final at Diss in March.
It was fantastic to have so much support from parents - thank you for your help, the children really appreciated having their own fan club watching.
---
December 2014
Nativity Plays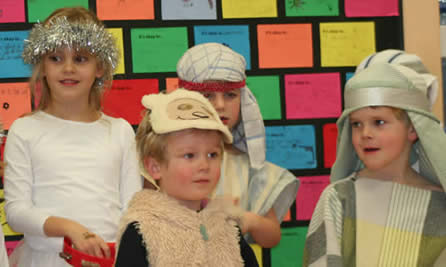 Click here for more KS1 Photos or Click here for more KS2 Photos
(coming very soon)
In a week when the national media highlighted the decline in the number of schools prepared to give their children the chance to take part in a traditional nativity, the children across the whole school showed just what a fantastic experience this is for everyone.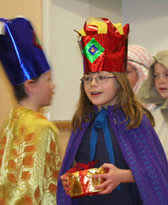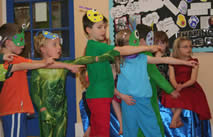 Not only does our much loved annual nativity support the church ethos of our school, but it gives the younger children often their first experience of really working together, concentrating for longer periods, learning lines and speaking and performing. For the older children, it inspires confidence and is fantastic preparation for their big end of year performance when they reach Class 4.
Class 1 and 2 sang beautifully, and it was amazing to see how the children supported each other, learnt their lines and performed their play with such confidence and independance. Well done to everyone, including Ms Leader and Miss Carpenter and the Key Stage 1 TA's who supported our fantastic stars of the future.
With a cast of thousands, Class 3 really got us in the mood for Christmas with their 'Hosanna Rocks' nativity, supported by the Class 4 choir. Thank you to all the children for their wonderful performances, and Mrs Benson and Mrs Thompson , an the Class 3 TA's for their hard work to put the performance on.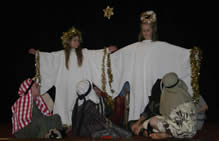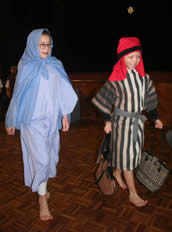 ---
---
Jelly Scientists
Congratulations to Year 5 and 6 who were awarded the prize for the best science investigation workbook at the Institute of Food Research (IFR) Tallest Jelly Competition , held at the Norwich Forum on Friday 26th September. Class 4 have been investigating methods of strengthening jelly structures in their science lessons, with a team of eight children taking our creations to the Forum to compete against other primary and high schools from around Norwich.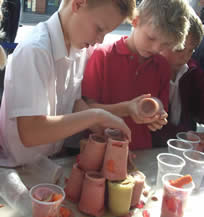 Our jelly towers, supported with cous-cous, carrots, potatoes and caramel wafer biscuits fought valiantly to stand up in the Norwich sunshine. We didn't quite reach the heights of the winning tower, but the judges were impressed by our 'comprehensive investigation', awarding us with the prize for the best science workbook - a fantastic reward for our hard work.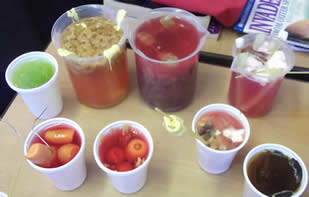 ---
---
'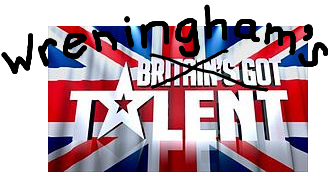 Following some hard fought heats, and a star studded final, the talented children of Wreningham put on a show to remember on the last Friday in June. There were acts ranging from dance to magic, singing to gymnastics. Here's the performers results waiting for the results, but visit the show link at the bottom to see them all performing.
Many thanks to our Governors who sat on the judging panel, and didn't have to press their red buzzers once. Our very own Ant and Dec compared the show, with winners from all four classes being announced after an almost impossible decision making process by the judges.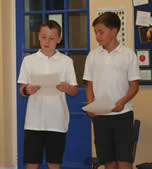 Which one is Dec? Incredible talent
A big thank you to Mrs Roberts and The School Council who organised this fantastic opportunity for everyone to show just how talented they are- lets hope it becomes an annual event just like our art exhibition.

Click on the Magician's Card
to See the Show !
---
'LEST WE FORGET'
The
Wreningham Art Exhibition 2014

'Poppy Fields' by Class 1
On Friday 20th June, Wreningham once again put the talent and hard work of it's young artists on display, in our World War One Cenentary exhibition.
All the children from all four classes displayed one or more pieces of art work. Each class focused on a particular theme, and used a range of art techniques and skills, including water colour landscapes, studying the style of Lowry to create 'The Christmas Football Match', adding texture to paintings and experimenting with impressionist techniques to create the poppy fields of Flanders.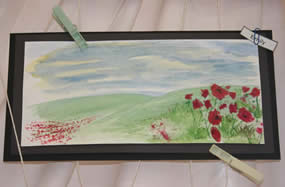 Click a poppy
to visit the exhibition
---
Football Team Champions
County Finals Here We Come !
A huge well done to our 2014 football team, comprising of children from years 4, 5 and 6, who competed on a baking hot day in May to win the South Norfolk Small Schools Tournament at Bowthorpe Football Development Centre.
Our boys and girls showed fantastic teamwork, hard work and just as importantly, great respect for their fellow competitors, making their parents and Mr Hodge extremely proud of them. They represented Wreningham superbly, as usual. A special mention for our goalkeeper, playing his first tournament, who made a string of incredible saves in a crucial match to ensure we finished top of the table. Their reward for winning the competition will be a place in the Norfolk County Games Football Finals on Tuesday July 1st.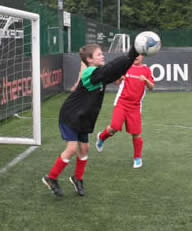 A huge thank you to all the parents and relations who ferried and supported the children at this event - your fantastic help is really appreciated by everyone at school and, of course, the children.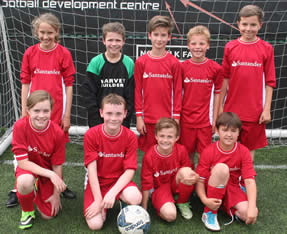 The Wreningham Team
---
Annual Egg-Drop Inspires
Young Designers
Once again, our annual Egg-Drop competition inspired our wonderfully creative children to come up with all manner of weird and wacky designs to protect their eggs.
Miss Carpenter was again forced to climb to a ridiculous height, in order to release the competition entries. The object was to design a contraption to prevent the egg from being damaged as it hit the floor. This year resulted in an unprecedented number of successful landings, prompting some high level discussions about implementing much more stringent rules next year - you are all just too talented at designing these things now.
Click on the image below
to see the egg-drop action

A 'survivor'
---
November 2013
Norfolk Schools Theatre Project:
Class 4 Perform Their Own Opera
at Theatre Royal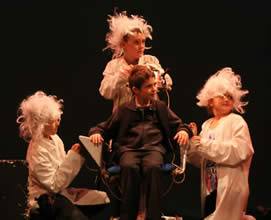 This autumn term, Class 4 were lucky enough to be chosen to take part in the Norfolk Schools Project, funded by the Norwich Theatre Royal. Year 5 and 6 stretched thrit creativity to the limits, using all their literacy, music and drama skills to write their own version of the Hansel and Gretel opera, adding a futuristic and thought provoking twist on the original fairy tale. With the help of professional music and stage directors, they then performed their opera live in front of a packed house at the theatre Royal.
Click below to see more of their amazing achievement.

---
October 2013
Amazing Wreningham Poets
Show their Talent Yet Again
Once again Wreningham has shown what talented writers our children are, with yet another finalist in the Norfolk Young Poet of the Year Competition.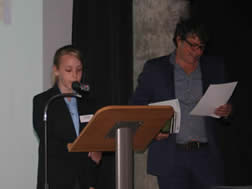 Following on from Holly's success last year, Nicole's poem, 'Friends' was chosen as one of this year's finalists, with Nicole asked to read her poem at the Forum in Norwich.

First-stage judges this year were the EDP's Simon Proctor, Prof Anne Osbourne from the John Innes Centre and the founder of SAW (Science, Art and Writing) which breaks down traditional barriers between the arts and sciences, and Tim Green, of Briar Chemicals. The shortlist for final judging was selected by TV presenter and celebrity judge, Caroline Flack.

Click here to read all the poems chosen

Nicole made the shortlist from 500 entries from all over Norfolk, which is a huge achievement. In addition the poems byHarry Thomas, Michael Roffe, Cole Dixon and Holly Salmon were selected to appear in the EDP poetry supplement. All these children have now moved on to Wymondham High and we wish them good luck and know they will do themselves and Wreningham proud in high school. Well done everyone.
---
---
What we got up to during 2012-13:
---
a GREAT SUCCESS!
Energy Week

20% Electricity Saving Achieved

As part of our 'Energy Busters' project and to make us all aware of the need for saving energy, Class 4 organised an energy saving week
from 1st July - 5th July.
We focused on these issues:
check the lights are switched off


have lessons outside
check heaters are off

We're also going to have a 'WASTE FREE WEDNESDAY'. On this day we will weigh all the rubbish and waste and hopefully it should all be lighter, as more people will have used reusable tubs.

The whole week has been planned by class 4
By Josephine Curtis & Alex Boakes-Young
---
The Spirit of Norfolk
Art Exhibition
Thank you to everyone who came to visit our annual school art exhibition, 'The Spirit of Norfolk'. The hall was packed and the children were extremely proud of their beautiful artwork on display.
Click here to visit the exhibition
The day started off with the announcement of the school portrait competition winners. Well done to everyone who took part; there were some excellent portraits, and it was easy to match them to their creators. This just shows what talented, keen artists we have in school.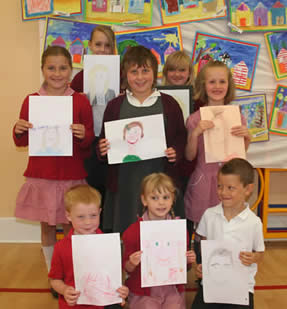 The Portrait Competition Winners...Well Done!
A big thank you to 'The Friends' for providing refreshments during the event, and to those year 6 children - Ciaran, Jessica, Vicky and Lacey and Ben- who worked frantically pinning up pictures on Friday afternoon (I hope your sore fingers heal up soon).
Click here to visit the exhibition
---
Achieve Great Result
Big congratulations to 'Team Reflex', the Year 6 - Level 6 maths team, who competed in the annual Norfolk schools maths challenge -held on 20th June at the UEA Business School.
The team were forced to answer some mind bending questions under pressure in a number of rounds against other schools from around Norwich.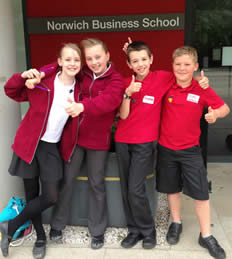 The team finished a magnificent fourth place, out of thirteen state and private schools, narrowly missing out on qualifying for the final by a meagre one point.
We are really proud of your achievement.

A big thank you to Mrs Coxon who took them to the event, and who managed to keep track of the incredibly complicated rounds and questions.
---
Wreningham

New Building

After several months of building, mud, and a little inconvenience, we are now using our beautiful new building.
Click here to find out all about it
---
South Norfolk in County Finals
Huge congratulations to the Year 5/6 Girls and Boys football team, who recently qualified to represent South Norfolk small schools in the Summer Games County Final on July 2nd.
The team played an outstanding tournament, winning every game on the way to the heat final, and conceding only 3 goals in the whole competition.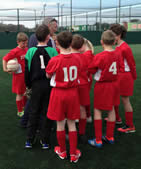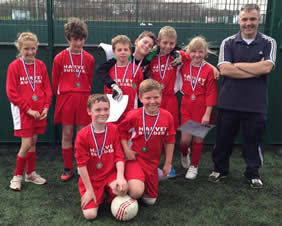 They were unfortunate to miss out on winning the qualifying tournament overall through the lottery of a penalty shoot-out. A tense nil-nil draw in the final resulted in Trowse pipping them to first spot on penalties, however Wreningham had already secured their county final place by finishing in the top two.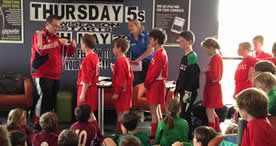 The games were played in blistering heat, and the team, consisting of Michael, Tom, Alex, Vicky, Alexander, Evie, Cole and Ciaran gritted their teeth and at times played some sublime passing football.
Well done and good luck in the finals

---
What we got up to during 2011-12:
Have a look at some of the activities, events and learning opportunities we have experienced this year

CASMA Choir sing

at St. Andrew's Hall

Children from Class 3 and 4 took part in a fantastic CASMA choir concert.

Down The Rabbit Hole This Summer Term

Class 4 performed their world premiere play, 'Alice in Wrenderland'.

Click here for a quick jump through the looking glass to the Alice portal page.

Meeting the Mayor

Our School Council Officers visited the Mayor of Wymondham in Democracy week, October 2011.

The School Choir

.

This is our school Choir led by Mrs Shaw. They practise on Thursdays, after school in

Class 2. This is one of the many after-school clubs we run.

Upper KS2 Football

The Upper KS2 football team performed fantastically well in the Banham tournament, missing out on top spot by goal difference only.

Circus Skills

Cosmo the clown came to school and put on a show, then taught the children some circus skills!

The Bishop Opens Play Area

Our new KS1 outdoor play area was opened in October. Revd Alan Winton, Bishop of Thetford, was invited to cut the red ribbon in front of teachers, governors and parents.

The Great Egg Drop Challenge

The whole school took part in our Eggdrop Challenge for Easter.

Year 6 Einsteins

Visit UEA

Jack, Charlotte, Isaac and Alice, from Class 4, took part in an inter-school maths quiz at the UEA.

Paralympian

Inspires Us

Danny Nobbs gave us inspirational talk to our children, showing us that with hardwork and determination, we can achieve anything!

We Celebrate

The Queen's Jublilee

We invited everyone to visit our Jubilee art exhibition 'Representations of the Queen'. the standard of work was incredible.