To visit The Department of Education School Performance Tables, please use the following links:
1. Wreningham VC Primary Performance Page
2. General DFE School Performance Tables Website

Note: A one-off writing test is no longer included in the SATs
Writing levels are determined over the year through teacher assessment.
Note: Results are now published in the form as a standardised score. In general terms, 100 being the 'expected' standard, below 100 classed as below/working towards standard and greater than 109 denoting working at a higher level.
2019 KS2 - Year 6 SATs Results:
| | |
| --- | --- |
| KS2 - Year 6 SATs Results | |
| % of children meeting the expected standard or above in reading, writing and maths (combined). i.e. if a child fails to meet the standard in one of the three subjects, they will not contribute to the %. | |
| Average progress in Reading - Average | -1.6 |
| % of children achieving expected standard in Reading | 87.5% |
| Average progress in Writing - Average | 1.13 |
| % of children achieving expected standard in Writing | 87.5% |
| Average progress in Maths - Average | -0.79 |
| % of children achieving expected standard in Maths | 87.5% |
| Average scaled score in Reading | 107 |
| Average scaled score in Maths | 108 |
| % of children achieving a high level of attainment in Reading, Writing and Maths (Combined) - i.e pupils attaining beyond the expected standard score of 100 and scoring greater than 109 in all 3 subjects. | 25% |
| Number of children in cohort | |
---
2018 KS2 - Year 6 SATs Results: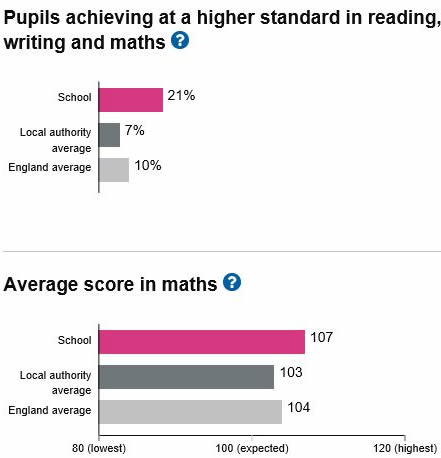 | | |
| --- | --- |
| KS2 - Year 6 SATs Results | |
| % of children meeting the expected standard or above in reading, writing and maths (combined). i.e. if a child fails to meet the standard in one of the three subjects, they will not contribute to the %. | |
| Average progress in Reading - At National Average (See Above) | - 0.5 |
| % of children achieving expected standard in Reading | 79% |
| Average progress in Writing - At National Average (See Above) | - 0.3 |
| % of children achieving expected standard in Writing | 86% |
| Average progress in Maths - At National Average (See Above) | 0.0 |
| % of children achieving expected standard in Maths | 93% |
| Average scaled score in Reading | 107 |
| Average scaled score in Maths | 107 |
| % of children achieving a high level of attainment in Reading, Writing and Maths (Combined) - i.e pupils attaining beyond the expected standard score of 100 and scoring greater than 109 in all 3 subjects. | 22% |
| Number of children in cohort | |
---
Previous Years' KS2 - Year 6
SATs Results:
| | |
| --- | --- |
| KS2 - Year 6 SATs Results | |
| % of children meeting the expected standard or above in reading, writing and maths (combined). i.e. if a child fails to meet the standard in one of the three subjects, they will not contribute to the %. | |
| Average progress in Reading - Awaiting official statistics measure | |
| % of children achieving expected standard in Reading | 82% |
| Average progress in Writing - Awaiting official statistics measure | |
| % of children achieving expected standard in Writing | 82% |
| Average progress in Maths - Awaiting official statistics measure | |
| % of children achieving expected standard in Maths | 82% |
| Average scaled score in Reading | 105 |
| Average scaled score in Maths | 107 |
| % of children achieving a high level of attainment in Reading, Writing and Maths (Combined) - i.e pupils attaining beyond the expected standard score of 100 and scoring greater than 109 in all 3 subjects. | 19% |
| Number of children in cohort | |
---
| | |
| --- | --- |
| KS2 - Year 6 SATs Results | |
| % of children meeting the expected standard or above in reading, writing and maths (combined). i.e. if a child fails to meet the standard in one of the three subjects, they will not contribute to the %. | |
| Average progress in Reading - Only 13 pupils from 15 (87%) counted as no KS1 data from previous non UK school | 1.9 |
| % of children achieving expected standard in Reading | 80% |
| Average progress in Writing - Only 13 pupils from 15 (87%) counted as no KS1 data from previous non UK school | 0.4 |
| % of children achieving expected standard in Writing | 73% |
| Average progress in Maths - Only 13 pupils from 15 (87%) counted as no KS1 data from previous non UK school | 1.9 |
| % of children achieving expected standard in Maths | 87% |
| Average scaled score in Reading | 105 |
| Average scaled score in Maths | 106 |
| % of children achieving a high level of attainment in Reading, Writing and Maths (Combined) - i.e pupils attaining beyond the expected standard score of 100 and scoring greater than 109 in all 3 subjects. | 13% |
| Number of children in cohort | |
---
| | |
| --- | --- |
| KS2 - Year 6 SATs Results | |
| % of children who have improved by two or more levels in reading, writing and maths between KS1 and KS2. | |
| % of children achieving Level 4 or above in Reading, Writing & Maths; | 100% |
| % of children achieving Level 4 or above in Maths; | 100% |
| % of children achieving Level 5 or above in Maths; - 3 children achieved Level 6 | 38% |
| % of children achieving Level 4 or above in Reading; | 100% |
| % of children achieving Level 5 or above in Reading; | 63% |
| % of children achieving Level 4 or above in Grammar, Punctuation and Spelling Test | 100% |
| % of children achieving Level 5 or above in new Grammar, Punctuation and Spelling Test; 2 children achieved level 6 | 63% |
| % of children achieving Level 4 or above in teacher assessed writing | 100% |
| % of children achieving Level 5 or above in teacher assessed writing; - 2 children achieved level 6 | 63% |
| Number of children in cohort | |
---
| | |
| --- | --- |
| KS2 - Year 6 SATs Results | 2013-14 |
| % of children who have improved by two or more levels in reading, writing and maths between KS1 and KS2. | |
| % of children achieving Level 4 or above in Reading, Writing & Maths; | 100% |
| % of children achieving Level 4 or above in Maths; | 100% |
| % of children achieving Level 5 or above in Maths; | 40% |
| % of children achieving Level 4 or above in Reading; | 100% |
| % of children achieving Level 5 or above in Reading; | 30% |
| % of children achieving Level 4 or above in Grammar, Punctuation and Spelling Test; | 100% |
| % of children achieving Level 5 or above in new Grammar, Punctuation and Spelling Test; | 50% |
| Number of children in cohort | |
---
| | |
| --- | --- |
| KS2 - Year 6 SATs Results | 2012-13 |
| % of children achieving Level 4 or above in Reading, Writing & Maths; | 100% |
| % of children achieving Level 5 or above in Reading, Writing & Maths; | 46% |
| % of children achieving Level 4 or above in Maths; | 100% |
| % of children achieving Level 5 or above in Maths; | 85% |
| % of children achieving Level 6 in Maths; | 23% |
| % of children achieving Level 4 or above in Reading; | 100% |
| % of children achieving Level 5 or above in Reading; | 69% |
| % of children achieving Level 4 or above in new Grammar, Punctuation and Spelling Test; | 92% |
| % of children achieving Level 5 or above in new Grammar, Punctuation and Spelling Test; | 77% |
| Total number of children in cohort | 13 |
KS2 - Year 6 SATs Results

2011-12

% of children achieving Level 4 or above in English and Maths;

87%

% of children making expected progress

(i.e. 2 levels), in English;

100%

% of children making expected progress

(i.e. 2 levels), in Maths;

93%

% of children achieving Level 5 or above English;

47%

% of children achieving Level 5 or above in Maths;

53%

Total number of children in cohort

15