This page just gaves a taste of the outdoor learning which takes place in our school across all our classes:
May 2023
Design & Technology Lessons Address
Current World Issues in Class 3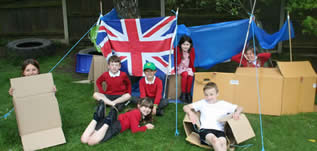 Class 3 have been putting their design and technology knowledge and learning to use this week , in designing and building regugee shelters from discarded materials. They have been able to discuss the problems which many people face in relation to being displaced or seeking escape from bad situations around the world.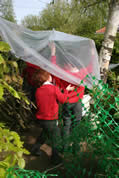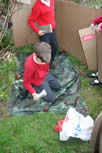 A safe, dry place to shelter is often a huge problem, and class 3 have been learning about the difficulties and solutions to building, securing and weather proofing a home with a lack of perfect materials.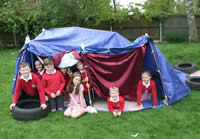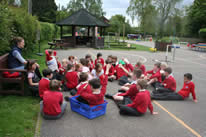 ---
January 2023
Throwing Projectiles is Much
More Fun Outside (... and Safer)
Class 4 took their science outside this term, testing their hypotheses about projectiles and catapults. We have been learning about Newton's Laws of Motion, and how the length of the throwing arm can affect the force needed to throw a projectile.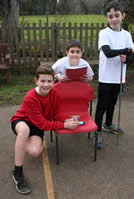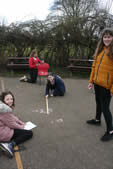 We were creative in our catapoult design, and utilised the things available in the classroom, with wooden rulers and glue sticks the ideal catapult. Our science investigation teams were organised efficiently: with the same person always applying the force on the catapult to help create a fair test, an observer to track the flight, an observer to mark the distance and the all important data recorder.
---
October 2022
Space in the Playground
(No, we mean outer-space)
Class 4 took their science 'space' learning outside to model the movement of the earth around the sun. This really helped our understanding of how we measure time on earth.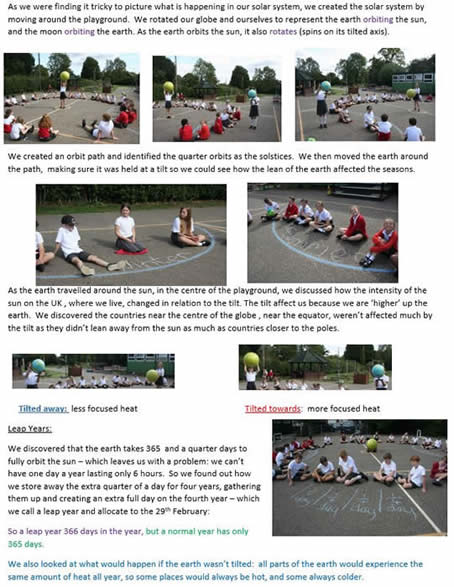 ---
September 2022
Creating Timelines in the Playground
Class 4 history took a step outside this week, as we attempted to create timelines which could highlight the distances between events in a more realistic way (although we discovered the huge periods of time
make an accurate timeline almost impossible sometimes.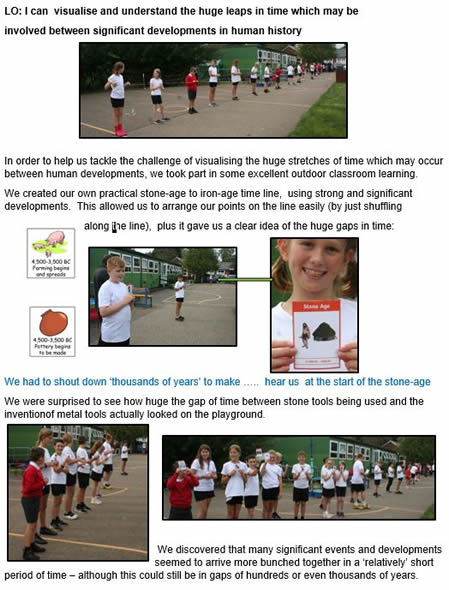 ---
July 2022
'Time' to Learn Outside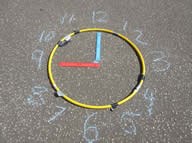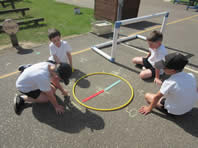 Class 3 decided to brush up on their time skills in the great outdoors. We started our lesson indoors and had a chat about what we already know about time. Mrs Cameron wrote everything we said on the whiteboard.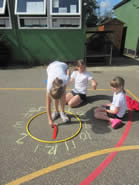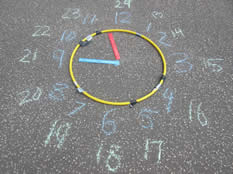 We then went outside onto the playground. Using
hula- hoops, rulers and chalk, our first step was to make a 12-hour clock. We then quizzed each other on different times and had to show each other the answers.
We then had to add the 24-hour time to our clocks, then quizzed each other on different 24-hour times
---
May 2022
Outdoor Learning on Art Day -
Wreningham Takes a 'Leaf' Out of
Andy Goldsworthy's Natural Art Creations
The School Council planned and organised the most fantasic whole school art day in May, allocating some of their hard raised funds to paying for a professional artist to come into school to teach pottery - with every child creating a unique clay bug hotel, to be fired in the pottery oven. Every class had sessions creating Andy Goldsworthy type natural art, using natural materials found in our beautiful school grounds. Have a look at some of our creations.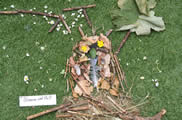 ---
May 2022
Bikeability in the May Rain Teaches
Essential Safety for Our Cyclists


Jamie from SJ3 Outdoors came to deliver the Level 1 Bikeability training to all of Class 3.
As part of the national programme, the level 1 course aims to develop mastery in cycle handling in an off-road environment and prepare riders for cycling on the road.
Class 3 loved being able to cycle around the school playground. The rain didn't even stop them from joining in.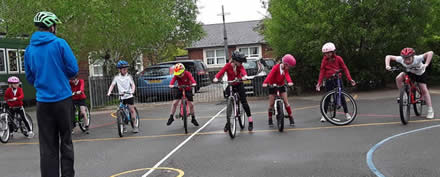 The children had lots to say about today's outdoor learning:
"It was very educational because you learned how to check your bike and make sure everything is ok before going out and riding it."
"It was fun! We got to bring our bikes into school and ride around on the school playground."
"I think it was really good because we learned how to keep safe on our bikes and we all really enjoyed it."
"I found it very fun because we were weaving in and out and taking our hands off the handlebars safely. We also learned how to tighten our helmets properly and take care of our bikes."
"It was fun and I would love to have it every week!!
"I loved everything we did and we got to bring our bikes into school!"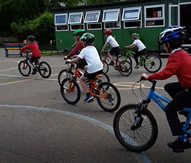 ---
Human Anatomy Science Outside:

Another sunny day in April saw class 3 explore the anatomy of the human body in the fresh air, turning our playground into a giant scientific sketchpad.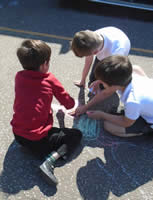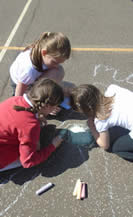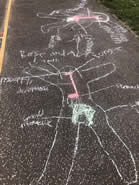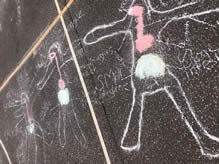 They started their new science topic of 'Animals including Humans' with some invigorating outdoor classroom work.. The first lesson was all about the human digestive system.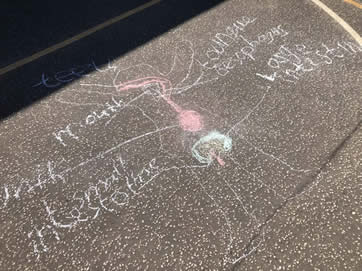 "We first chatted about what we knew about it, and then discovered the names of its basic parts. Then, we went outside, traced around a friend and drew the basic digestive system in the outline. Lastly, we had to label our diagrams. "
"Afterwards, on post-it notes, we wrote down some of the questions we have about the human digestive system and its parts."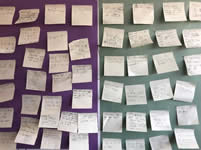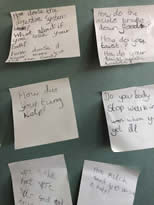 ---
Class 4 Learn About the Solar System 'Hands-On':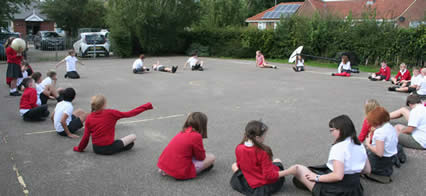 The solar system is a big place - a seriously big place. So getting outside to cretae a working model was extremely heklpful to our understanding of how the movement of the earth around the sun affects our idea of time.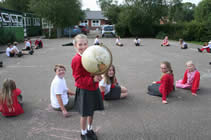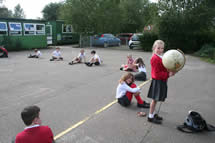 We created our outdoor 'space' classroom to mimic the earths orbit, along with investigating how the moon orbits both the earth and the sun. Our outdoor classroom really helped us get to grips with the idea of a leap year: moving our globe and rotating it whilst on its journey allowed us to w see clearly how 365 and a quarter day orbit makes sense... and all that fresh air really sharpened our thinking.