Remember: I have high expectations of you, so you must have high expectations of yourself. Hand in work which you are proud of.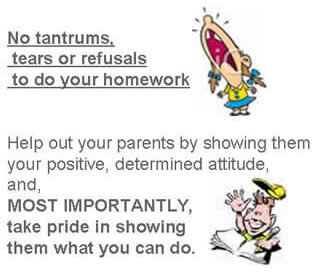 Let your parents help and support you with your homework - learning is learning and getting advice and help is not cheating; it just shows you are thinking about what you need to improve.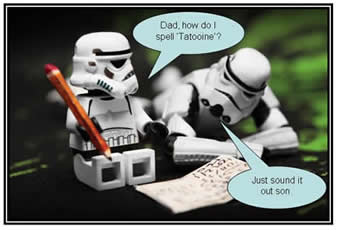 However, don't let your parents actually DO your homework for you; I don't want to mark their ideas, I want to see yours. If you're stuck, just come and tell me on Monday and we'll look at it again together - don't wait until Tuesday or Wednesday.
---
Homework:
Autumn Term 2 - 2018
Given Out: Friday 7th December
Due in on Wednesday 12th December
Maths:
1.Arithmetic: Follow the instructions on the arithmetic worksheet. Year 6 are now expected to try EVERY question. Make a note of where you are at 30 minutes but you must continue and complete all the questions IN YOUR BOOK WITH FULL WORKING OUT.
2. All try challenge one we wrote out on the board and you copied onto your worksheet.
Try the algebra challenges if you have worked on algebra in a group with Mr H. this term.
Spellings:
Test on Thursday 13th December
Abbie, Lewis, Jack, Nathan, Harrison, Harry
accident(ally)
actual(ly)
address
answer
appear
arrive
believe
bicycle
breath
breathe
Year 6 - 21 to 40 spellings from year 5/6 list.
Year 5 - 11 to 20 from year 5/6 list.
(See below)
21 to 40 from Year 5/6 List:
11. available
12. average
13. awkward
14. bargain
15. bruise
16. category
17. cemetery
18. committee
19. communicate
Year 5 to here 20. community
21. competition
22. conscience*
23. conscious*
24, controversy
25. convenience
26. correspond
27. criticise (critic + ise)
28. curiosity
29. definite
30. desperate
31. determined
32. develop
33. dictionary
34. disastrous
35. embarrass
36. environment
37. equip (–ped, –ment)
38. especially
39. exaggerate
40. excellent
It's important to remember not to learn your spelling for a one-off test - we are learning them so we will build up our accuracy in spellings for whenever we write.
This term we will also be continually returning to those useful words in the Year 5/6 Spelling list from the National Curriculum. Heres a list for your quick reference.
It's good to practise these words whenever you get the chance.
---
---