Welcome to


Class 3's Home Learning:

Dear Team Class 3,
I hope you and your families are all keeping happy, healthy and safe. Mrs Rees, Mrs Fox and I think of you all often and we do miss you.
We would love to see what you have been up to!
If there is any school work you are really proud of, or if there is something else you would like to share with us, ask an adult to take photos and then you can write an email to us. Please send your messages and photos to office@wreningham.norfolk.sch.uk and Mrs Sharp will forward it on to us.
Below are some suggestions of things you could work on throughout the week in maths, literacy and other areas. Mr Hodge has moved previous work to the archive; look for the picture of the filing cabinet in the top left column of this.
Remember to check out what Monster has been up to – he has been keeping me and my family busy
!

Please try and do a little something each day. I know, realise and appreciate that learning at home is very different to learning at school. As always, all I ask is that you have a go, try your very best and do what you can do.
Take care and I am looking forward to when we are together again.
Mrs Cameron
---
Weekly Activities for
20th/21st July:
If you are coming in school as a Class 3 Key Worker,
please click here to see what your new timetable looks like so you know which work to do at home:
---
1. A selection of activities for 20th/21st July
---

The Class 3 Monster

Helps You Out During School Closure
Dear Team Class 3,
I will write to you each week to let you know what I've been up to. Click below to rsad my letters.
My letters to you, describing
what I got up to during school closure :
- Week beginning 13th April - 2nd Week Easter
- Week beginning 6th April - 1st Week Easter

---
If you would like to keep busy at home, here is a
reminder of things we decided together you can do:
and remember ....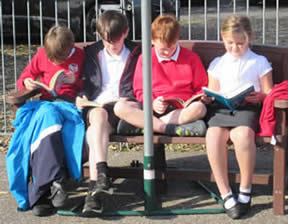 Read, read, read, read, read, read, read...
---
---
---
Lots of Fun Web links
for Class 3 Topics and Work
I'll add to this as I find and test out some site links.
ANCIENT EGYPT


Akhet Egyptology
Ancient Egypt - British Museum
Egyptian Gods
Explore The Pyramids
Mysteries of the Nile
The Pyramids:Design & Construction
Snaith Egyptian Site
Volcanoes
---