Class 4

2014 Summer Term :
Titanic tragedy !
We have studied the terrible events of the sinking of the Titanic, creating some beautiful and poignant poetry, and written some powerful diary entries from children who were passengers on the fateful voyage. The quality of the work produced has been outstanding, as you can see by the examples from year 5 and 6 below.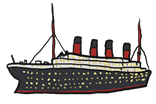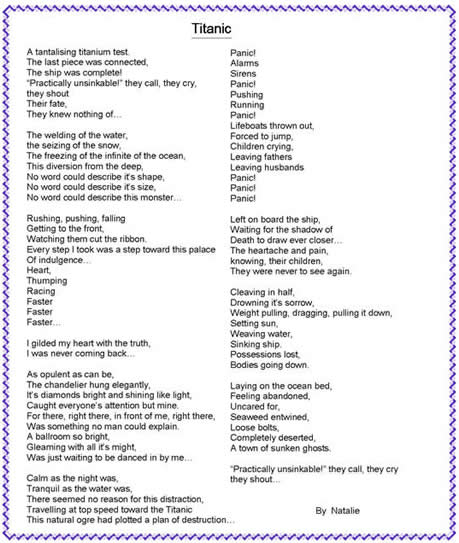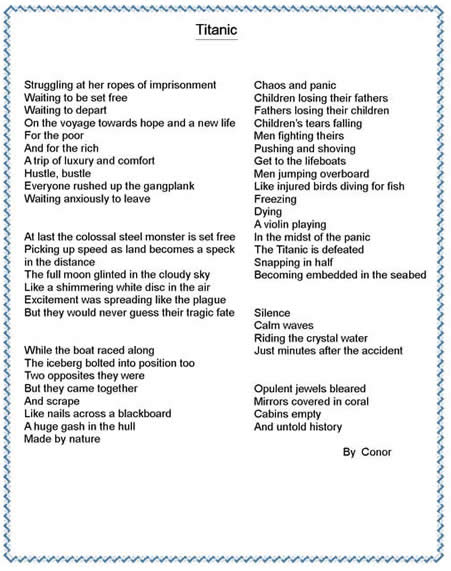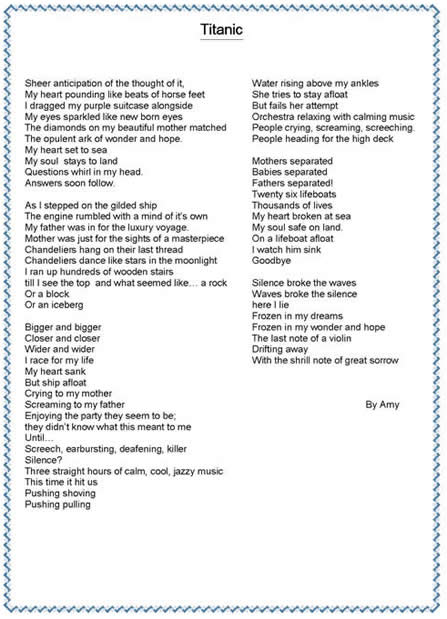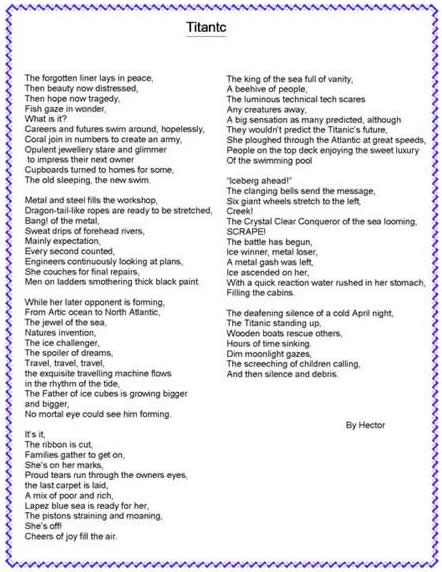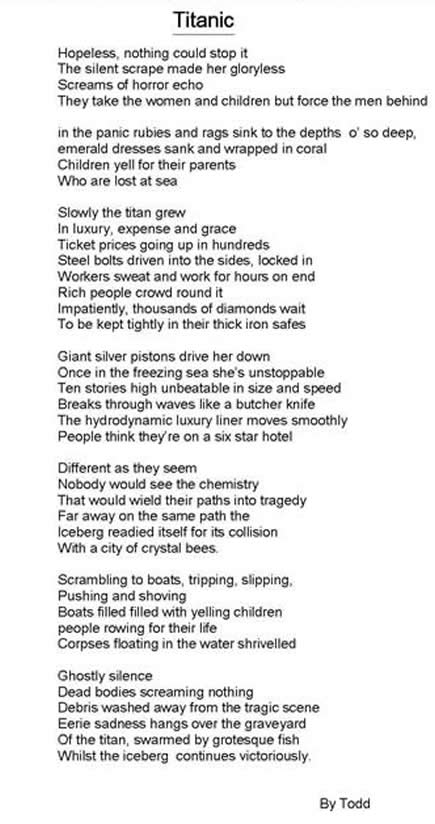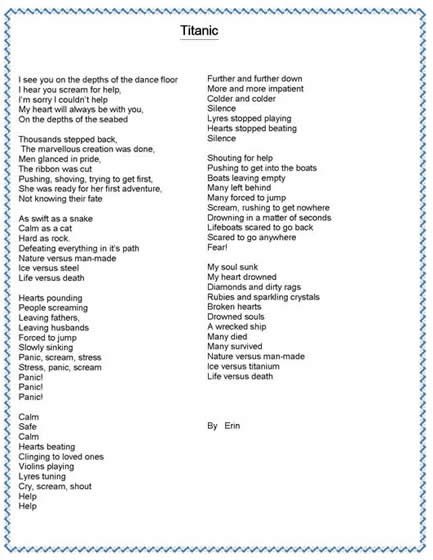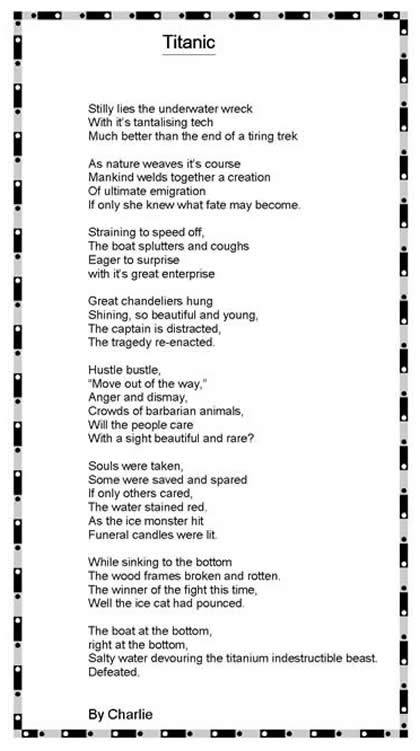 ---
---
2014 Spring Term :
In the Spring term this year, we will be learning how to write persuasively, using formal letter writing skills, along with writing balanced arguments. We will use the theme of 'graffiti' to explore the issues in presenting argument for and against a contentious subject. We will explore the use of formal language, and the features which help make our writing sound serious, sensible and business-like.
Our discussion and debating skills will be honed and we will find out how subjects are debated in the Houses of Parliament.
After half term we will work on improving our dialogue writing skills, using Philip Pullman's dark tale of 'Clockwork'. We will also examine how characters are created, introducing them through the actual story and not just listing their attributes. We will learn about the features of a gothic mystery story and write our own imaginative text.
Throughout the term, we will be improving our spelling, punctuation and grammar skills of course.
---
---
2013 Autumn Term :
This term we will be using our Norfolk School Opera Project play as inspiration for many of literacy topics as well as our overall school theme of 'Fabulous Forests':
1. Writing our own operatic version of Hansel and Gretel. We will be using our creative ideas to produce our own version of the traditional tale, and with help from the Norwich Theatre Royal professionals, we will actually be putting on our own opera at the theatre itself.
2. Learning the skills required to write our own newspaper report and produce our own authentic front page using Publisher.
3. Learning the skills required to write effective instructions, and following a recipe and instructions to make Hansel and Gretel peppermints and a tricky origami star box to pack them in.
---
Class 4 Presents:
Alice in Wrenderland
Take a look at a previous Class 4 theme...

Curiouser... and curiouser ...
Alice:

The Lost Chapter

Click here or on the book to read the 'Lost Chapters' of Alice's adventures.

We have written new additions to the classic story, creating our own unusual character who wouldn't seem out of place in Wrenderland
---
English Links
LOOK COVER WRITE CHECK
SUFFIX & PREFIX MACHINE
JUNGLE ADVENTURE Story writing
ANCIENT GREEKS COMPREHENSION
HOMOPHONES
HOMOPHONES 2
PLURALS QUIZ
LITERACY QUIZ
Try the COUNTDOWN LETTERS GAME