Class 4 Presents

Latest News
This is the place for all your Alice in Wrenderland news.

Latest News... Friday 6th July
One week to go and only one million and one things to finish... We are now in a state of mild panic..

Latest News... Friday 29th June 2012
Scenery now just about completed. Just .the problem of how to make Charlotte disappear (in the play of course... but then again...)

Latest News... Monday 18th June 2012
First full run through of 7 scripts completed in under 15 hours.... it's a breakthrough. Well done to everyone, you have worked really hard and the results are showing.
We now have our scenery boxes, with huge thanks to Mr Dowrick. Now the real hard work begins.

Latest News... Tuesday 12 June 2012
Second child goes through ordeal of modroc. Charlotte becomes the second girl to survive the modroc treatemnt relatively unscathed.
"Please don't let me have to go through that again," Charlotte gasped, as she worried about the mess the horrible plaster made of her school uniform.
"Nothing to do with me!" claimed Mr Hodge. It is true that Katie was responsible for ensuring no mess was made, so please speak to her Mrs Vincent.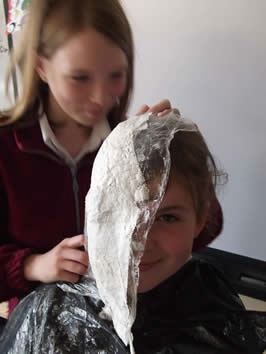 Latest News... Monday 11th 6th June 2012
Well done Class 4. The first run through of Scene 1 with no scripts was fantastic. You have worked really hard and it's going to be great.
I was very impressed with your character acting, and particulary with you characters working in pairs.
BIG REQUEST sent out for larger cardboard boxes for our scenery. Don't forget, if any of you have these at home, we need some for our set designs!

Class 4 children spend whole nine days of summer half term holiday learning lines, under threat of expulsion by unreasonable class teacher.
"I'm thinking of adding another 6 scenes to pad it out," commented Mr Hodge.
" It's not like they've got anything else to do," he added, with an extremely serious look on his face.