Welcome to the


Key Worker Page
Here is the Summer 2020 Weekly timetable for Class 3 Key Workers. This will help you and your parents decide which activities to do when you are at home - as you'll see what you are doing when you are in school.
Please remember to wear your school uniform
(and bring a cardigan/jumper every day, just in
case it is needed).
(Download it here as a jpg file)
For those of you in Class 3 who will continue to come into school as key worker children from the 1st June, here is what we will be up to throughout the week.

Time outside, our daily run and some choosing time will also be weaved into our time together !

The work posted on the school website will be the same work we will do in school.

On Fridays, please come to school wearing your PE kit (white t-shirt, black shorts, socks and trainers).

---
and remember ....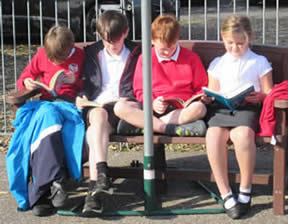 Read, read, read, read, read, read, read...
---
---